Behind the Camera
Frost Book Helps Directors Better Understand Cinematography
October 6, 2009
By Valerie Orleans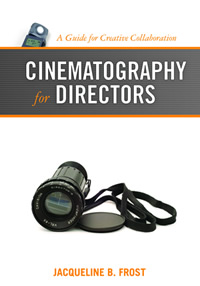 Frost's book: "Cinematography for Directors,"
To research her new book, "Cinematography for Directors," Jacqueline Frost interviewed prominent cinematographers to better understand how they relate to directors and what advice they could provide.
"As a filmmaker, my goal was to write a book that could help directors better understand the work of cinematographers and how they can collaborate to get the desired vision," said Frost, associate professor of communications. "Many of the cinematographers I interviewed developed long-standing relationships with prominent directors. There's a trust level there and they understand one another. That's what makes their movies so good."
Frost, who teaches cinematography, film production and film history, started the book in March 2007.
"I'm very attuned to light and mood," she said. "I actually studied art history in college and then became interested in still photography. But I liked to tell stories so that led me to film. But when you think of great art, you always notice how the artist has used light and composition in his/her work. The same is true of cinematography.
"Directors need to be able to express their vision to their cinematographers," she said. "Many directors start as actors, writers or have worked in the theater. They may not understand all the technical nuances of format, color, what lenses to use. The director is the visionary of the film — they know what mood and experience they want. If they can work hand-in-hand with cinematographers, there's a much better chance of them being able to achieve that goal."
Cinematographers, on the other hand, can transform the aesthetic into the technical. They know all about format, colors and lenses … and how to use film to create the desired look and feel. For example, Frost cites the cinematography in the movie "The Hours." The film focuses on three different women in different settings.
"In 'The Hours,' the director and cinematographer used different lighting for each woman," Frost explained. "For instance, when Nicole Kidman (playing Virginia Woolf) was on the screen, the colors were sepia-toned to evoke a feeling of the past. When Julianne Moore was on screen in a more modern time, there were bright colors. When Meryl Streep was on screen, the lighting was tinged with blue to evoke the coldness of winter in New York.
"You see the same thing happening in 'The English Patient.' In flashbacks, the colors are gold and muted," she said. "When things are happening in the present, the colors are cool and bleak."
According to Frost, audiences are often not even aware of these changes … but they help set the mood and tone of the film.
"People react to color," she said. "On a certain level, it affects the subconscious."
And while a director may ask for a certain type of look, the cinematographer is the one that knows how to get it through the use of certain lenses, film stock and digital manipulation in post-production.
"The goal of my book and by extension, my classes, is to showcase the importance of the cinematographer," said Frost. "Even though cinematographers' names aren't as well known as the directors', they play a critical role in bringing a film to life. They are the visual interpreters of the story."
Cinematographers and directors interviewed for "Cinematography for Directors":
Cinematographer Roger Deakins, a six-time Oscar nominee who worked with Ethan and Joel Coen ("No Country for Old Men," "The Big Lebowski," "O Brother, Where Art Thou?," "Fargo," etc.) and Sam Mendes ("Jarhead," "Revolutionary Road")
Rodrigo Prieto, who worked with Ang Lee ("Brokeback Mountain," "Lust, Caution") and Alejandro Gonzalez Inarritu ("Babel" and "21 Grams")
Cinematographer Richard P. Crudo ("American Pie," "Outside Providence")
Cinematographer Matthew Libatique, who has worked with Spike Lee ("Inside Man," "Miracle at St. Anna") and with Darren Aronofsky ("Requiem for a Dream")
Cinematographer Daniel Pearl who filmed a number of music videos, commercials and feature films ("Texas Chainsaw Massacre," 2003 Michael Bay remake of "Texas Chainsaw Massacre")
Cinematographer Nancy Schreiber ("Blair Witch, 2;" "Path to War," "Lover Boy")
Cinematographer John Seale, an Oscar nominee for "The English Patient" who also shot "Cold Mountain" and "Spanglish"
Director Donald Petrie ("How to Lose a Guy in 10 Days," "Miss Congeniality")
Frost is currently working on her second book, focused entirely on the conversations with cinematographers. She is in the process of interviewing more American Society of Cinematographers members.
"In my first book, I could use only portions of the interviews, weaved through each chapter," she said. "The second book will allow me to use the interviews in their entirety."
Related Stories:
Frost Documentary Showcases "What is Gay?"