Bird Watching at the Fullerton Arboretum
Evening Classes Scheduled Aug. 13 and Sept. 10
July 21, 2009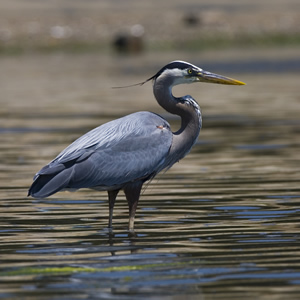 Great blue heron. Photo courtesy of Mike Baird.
See red-shouldered hawks, snowy egrets, red-winged blackbirds, great blue herons, hummingbirds, finches and more during bird watching classes Aug 13 and Sept. 10 at the Fullerton Arboretum.
Staff biologist and bird enthusiast Greg Pongetti will lead classes throughout the Arboretum grounds. Pongetti will share bird watching techniques, as well as the natural history, identifying features, songs and specialized adaptations of the birds who visit and live on the grounds.
The classes are open to adults of all ages. Price per class is $10 for members of the Friends of the Fullerton Arboretum or $12 for non-members. Deadline to register is Aug. 12 for the 6-7:30 p.m. Aug. 13 class; Sept. 9 for the 5:30-7 p.m. Sept. 10 class. All classes are prepaid registration only; call 657-278-3407 to register or with questions.
Established in 1979, the Fullerton Arboretum has served the community as a resource for ecological, horticultural and historical education. The Fullerton Arboretum is the largest botanical garden in Orange County. Encompassing 26 lush acres, the Fullerton Arboretum has assembled a permanent collection of more than 4,000 unique and unusual plant species from around the world.
The Fullerton Arboretum is normally open from 8 a.m. to 4:45 p.m. daily, with extended hours during July, August and September. For more information on classes, programs and events at the Arboretum, go to The Arboretum's website or call 657-278-3407.