Beverly Miller Dies at 80
August 11, 2009
By Paula Selleck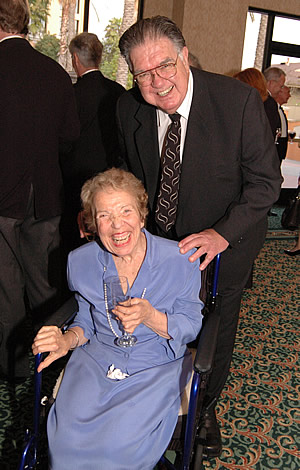 Beverly and Arnold Miller
Beverly Miller, a longtime university supporter and participant at the university's Center for Successful Aging, died Aug. 6, of lung cancer.
She was 80 and had been battling Parkinson's disease for 22 years.
Together with her husband, Arnold Miller, retired corporate vice president for Xerox Corp. and former chair of the University Advisory Board, the couple endowed a university scholarship in gerontology and were among those in attendance at this year's commencement exercises, where he addressed the ceremony for those being awarded degrees in gerontology.
"Our hearts go out to Dr. Miller, who has lost his dear wife of 59 years. He and Beverly have been such a positive force in the advancement of the university for decades and pillars of our campus community," said CSUF President Milton A. Gordon.
The Millers were recognized as part of the university's 50th anniversary during the Legends & Legacies gala saluting major university donors. Their beneficiaries have included: President's Scholars, Guardian Scholars, College of Engineering and Computer Science, College of Natural Sciences and Mathematics, Theatre and Dance Department, Continuing Learning Experience, the Ruby Gerontology Center and gerontology programs.
The Beverly and Arnold Miller Endowed University Scholarship in Gerontology was established in 1996 and since its inception, 65 scholarships have been awarded to students, many of whom came to know the couple. "The students they supported were central to them," said Pauline Abbott, director of the Institute of Gerontology. "They kept in touch with them over all the years."
C. Jessie Jones, professor of health science and co-director of the Center for Successful Aging, noted that Beverly "has always been an inspiration to our students with her resilience and fun-loving nature."
"Beverly was a longtime client in the Center for Successful Aging programs," recalled Debbie Rose, co-director and professor of kinesiology. "She was a regular attendee in our balance and mobility program at the center and was attending class up until midway through the spring semester when her condition worsened," she said, adding that she "was loved by all who worked with her in the center — both staff and the Kinesiology Department student interns. Her radiant smile and wonderful sense of humor will be greatly missed by all who had the privilege of working with Bev."
Together with her husband, Beverly was a member of Patrons of the Library, President's Associates and CLE, now known as the Osher Lifelong Learning Institute.
A 50-year resident of Fullerton, she was active in a variety of community endeavors, serving as founding treasurer of the North Orange County Child Guidance Center, president of the Hermosa Drive Elementary School PTA and president of the Fullerton Council of PTAs. She also chaired the American Cancer Society Drive in Fullerton for four years, breaking records for fundraising each year. Active in local politics, she co-managed a city council campaign for Frances Wood, who went on to serve as the first woman mayor of Fullerton.
Expanding her civic involvement beyond Fullerton, Beverly later served on the Orange County Planning Commission; was a member of the Orange County Harbors, Beaches and Parks Commission; and also worked for former Orange County Supervisor Ralph Dietrich on land-use issues.
A math major at Northwestern University at the age of 16, she had been a top student throughout her K-12 years. Her daughter Marla recalled her mother as "the only person I knew who could help the kids with trigonometry."
Beverly met and married Arnold in 1950 when the pair were 21. While he was earning his Ph.D. at UCLA, she supported them by working as an accountant and manager of rental units. Years later, she retired as controller of Savant Audiovisual Inc.
Besides her husband, other survivors include: daughter Debra Miller and granddaughters Abigail and Molly Davidow of Washington, D.C.; daughter Linda Shayne and son-in-law Paul Berman of Santa Monica; and daughter Marla Miller and son-in-law David Kremer and grandchildren Michael and Caroline Kremer of San Francisco.
Services were held Aug. 9 at Temple Beth Tikvah, and burial followed at Pacific View Memorial Park in Corona del Mar.
In lieu of flowers, donations can be made to:
• Beverly & Arnold Miller Endowed University Scholarship in Gerontology. Please make check payable to: CSF Philanthropic Foundation, in memory of Mrs. Beverly Miller, Acct. #90840, Cal State Fullerton Philanthropic Foundation, 2600 E. Nutwood Avenue, Suite 850, Fullerton, CA 92831
• Temple Beth Tikvah Project Legacy, 1600 N. Acacia Ave., Fullerton, CA 92831