Art Nouveau & the Female Figure
Works of Contemporary Artists on Exhibit Beginning Aug. 29
July 28, 2009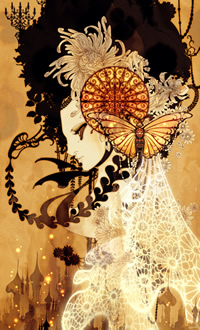 Snow White by Aya Kato
How much of an impact do designers and illustrators have on current visual culture? A Main Art Gallery exhibit that opens Aug. 29 attempts to answer that question.
"Redefining the Line: Art Nouveau & the Female Figure" investigates the influence of historical art nouveau on contemporary artists and the exhibits of artists who use both traditional and digital media. Featured are the graphic design, illustration and installation work of 10 international artists: Pomme Chan, Deanne Cheuk, Naja Conrad-Hansen, Aya Kato, Pandarosa, Marguerite Sauvage, Alberto Seveso, Sonya Suhariyan, Yoshi Tajima and Eveline Tarunadjaja.
These artists merge fine art and commercial art worlds, applying fine art techniques and art historical ideas to commercial avenues geared towards fashion, music and popular culture, say curators Alexandra Duron and Sarah Strozza.
The exhibition presents recent and new works, including installations created specifically for this exhibition. "Redefining the Line" also presents original drawings, created initially for the artists' design work, that have never been exhibited.
An opening reception for the Aug. 29-Oct. 2 exhibit will be held 5-8 p.m. Saturday, Aug. 29. The Main Art Gallery is open noon to 4 p.m. Tuesdays-Fridays and noon to 2 p.m. Saturdays. For more information, go to the College of the Arts event webpage or call 657-278-3262.