Healing Powers of Art
Exhibit Linking Art and Health Opens Sept. 11
September 10, 2009
By Debra Cano Ramos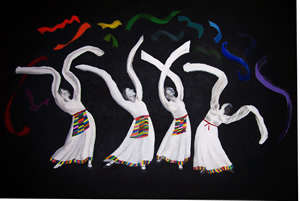 Junior Mark "MC" Brooks uses the powers of music and dance in his acrylic on canvas piece, "Tibetan Dance (To Ease the Pain and Suffering)."
Art major Mark "MC" Brooks was inspired to create "Tibetan Dance (To Ease the Pain and Suffering)" to not only depict what he calls one of the most beautiful cultures in all the world, but also the healing powers of music and dance.
"I've always believed in the curative powers of music and dance," said Brooks, a junior who lives in Orange. "Like native people and African-Americans did here, the Tibetan people face oppression and cultural marginalization. And just like these groups, Tibetans use music and dance not only to preserve their culture, but to ease the stress that comes with daily encounters with oppression."
Brooks, who created the artwork using acrylic on canvas, is among student and alumni artists who submitted their works for "Art 4 Health III," an exhibit showcasing the connection between art and health.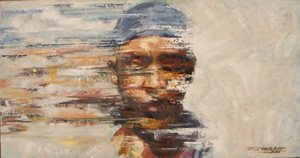 "Stepping out of my comfort zone #7" is the title of alumnus Eric Leonard Jones' submission, in which he integrated the background as a significant part of the painting.
The exhibit opens Friday, Sept. 11, in the Student Health and Counseling Center, located off Gymnasium Drive. A free, public reception will be held from 4 to 7:30 p.m. — prior to the university's annual Concert Under the Stars. Parking is free after 5 p.m.
A collaborative effort between the Student Health and Counseling Center and the College of the Arts, the third annual juried show is designed to create campuswide awareness of the university's health services.
The theme of this year's exhibit is "Curative Creations" with pieces focusing on self-healing and featuring 54 artworks created by 25 Cal State Fullerton students and alumni.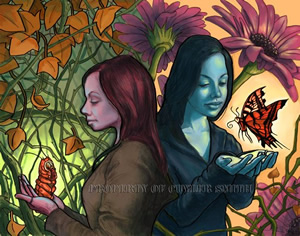 Alumnus Cuyler Smith created 'Metamorphosis' for a friend experiencing a rough emotional situation. "It illustrates her growth, spirit and inner beauty," he said.
"Our current show features visual artists from a variety of disciplines who examine health in the process of living," said Cheryl Schriefer, exhibition coordinator and lecturer in art. "Their explorations are their stories, their memories, their hopes and dreams."
Schriefer, who earned a B.A. in theatre arts and an M.F.A. in art with a concentration in design from Cal State Fullerton, added that linking art and health can make the viewer feel better too.
"Because artwork can only be completed when viewed — making a unique connection with a viewer's experience — visual art has the ability to touch us where we might not otherwise be able to scratch. In this way, art enriches everyone who encounters it," Schriefer said. "Isn't that healing at its best?"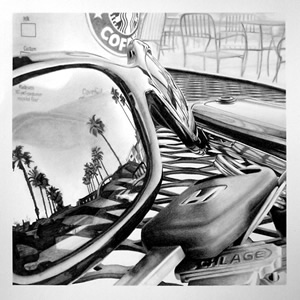 In her illustration, senior Lauren Gallegos created "The Bubble' that portrays the stereotype many people have of life in Southern California.
The opening reception features an art auction of selected pieces. During the reception, alumnus Eric Leonard Jones (M.F.A. art-drawing, painting and printmaking '07) will be painting a self-portrait as a young child. The Santa Ana resident submitted three works of art for the exhibit, including "Stepping out of my comfort zone #7."
For this oil piece, Jones took a leap and put the figure of a man in the middle of a landscape and integrated the background as a significant part of the painting. In doing so, it helped him to face his own fears. "In this painting I can see the Holy Spirit teaching me that I should not fear those empty spaces of doubt, and trust that sometimes those 'empty spaces' are necessary."
This year's selected works will be exhibited in the Student Health and Counseling Center through July 2010. After the opening reception, the exhibit is open to the public and campus community at no charge and by appointment only. To schedule an appointment, call 657-278-3946 or visit the Art for Health website.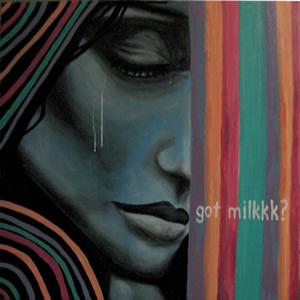 Senior Patrick Nguyen's love for milk inspired him to paint 'Cry for Spilt Milk.'