Succulents on Sale
Arboretum Hosts Annual Cacti Sale Dec. 4-6
November 17, 2009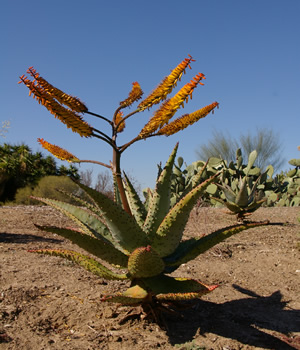 Samples of some of the cactus growing in the Fullerton Arboretum. Home gardeners can find similar varieties for sale Dec. 4-6 during the annual Cactus and Succulent Show and Sale.
Looking for drought-resistant cactus and succulents to bring color to your winter garden? Check out the fifth annual Cactus and Succulent Show and Sale Dec. 4-6 at the Fullerton Arboretum.
The 10 a.m.-4 p.m. event, a collaboration of the Orange County Cactus and Succulent Society and the arboretum, will feature a wide range of unusual and hard-to-find cacti, succulents and hoyas. Plant experts will be on hand to answer questions.
This year's show features winter-blooming plants rarely seen at summer shows and sales. For additional information about the Cactus and Succulent Society or the show, visit www.OCCSS.org or call the Fullerton Arboretum at 657-278-3407.