Among the Top in Competition
Comm Major Included in National Top 100 Journalism Students Listing
May 19, 2009
By Valerie Orleans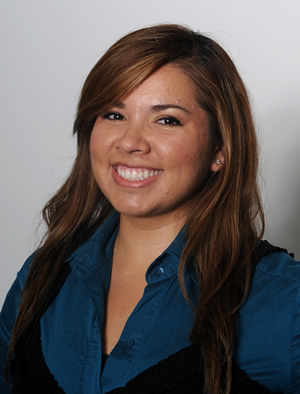 America Arias
America Arias, despite an impressive resume, wasn't sure if she'd make the Top 100 Journalism Students in the Nation listing when she applied. With more than 800 contenders, competition would be fierce.
But the communications senior and commencement candidate did make the list, complied each year by U Wire, dubbed the "Associated Press wire for college newspapers."
The company handpicks the best content daily from more than 800 affiliate college media outlets for distribution throughout the country.
"I've known I wanted to be a journalist from the time I was a little girl," she said. She remembers, at age 14, accompanying her parents to a warehouse where the various sections of the Los Angeles Times were compiled for Sunday delivery.
"We take the different sections — news, features, sports, business, editorials — and put them all together with the ads and the other sections and wrap them in plastic bags," she said. "Sometimes we would have to wait because the front page section was held up. I'd always wonder, 'What do you think happened that's holding up that section?' I decided, then and there, that I wanted to be on the other side of the news business — the side that reports the stories."
When she arrived on campus as a freshman, Arias was the first in her family to attend college.
"My parents couldn't afford to send me to college so I had to apply for scholarships," said the Costa Mesa resident. "Once I started receiving help, I wanted to work hard to show them that their money wouldn't be wasted."
In addition to her studies, Arias also serves as a student representative on the national boards of the Society of Professional Journalists and the National Association of Hispanic Journalists. She has held internships with TV stations WUSA, a CBS affiliate in Washington, D.C., and in the Los Angeles Bureau of CNN.
She also spent two years working with Titan Communications, a campus-based television program, and served as a student assistant for Cal State Fullerton's partnership with PBS station KCET. Arias serves as chair of the university's Council of Honor Societies and as a member of executive senate of Associated Students Inc.
Arias decided to focus on broadcast journalism when she noticed that the news industry was increasingly moving toward broadcast and away from print.
"I'm a story teller," she said. "I wanted to learn video — how to write, shoot and edit my own pieces. Broadcast journalism appealed to me."
Over the past years, Arias has developed dozens of programs. One of her favorites focuses on the topic of immigration.
"Being the child of immigrant parents, that's a subject that's dear to my heart," she admits.
One of the greatest challenges for America is managing her studies (she's a double major in communications and political science) with her filming and board commitments.
"I just learned to juggle and set priorities," she said. She credits many at Cal State Fullerton for helping her develop these skills.
"Dr. Brent Foster in broadcast journalism has been very helpful," she said. "Also, Peggy Bockman, the assistant dean in the College of Communications, really pushed me to develop leadership skills and take on leadership positions in many student and professional societies."
So what does she plan to do once she receives her diploma?
"Looking for a job will be my number one goal," she said. "It will seem a little strange not to be focusing on my studies. But I think with the preparation I have received, I'm ready to take on new challenges."
Photos are available online at www.fullerton.edu/newsphotos.