Alumni Association Honors Graduates
Scholarship and Service are Recognized
May 19, 2009
By Pamela McLaren
Two high achieving students who have excelled academically, demonstrated outstanding service to their department, campus and/or community and show strong involvement in extracurricular, academic and professional activities are being honored this spring by Cal State Fullerton's Alumni Association.
Baban Pal Singh of Hacienda Heights has been awarded the association's Outstanding Graduate Award. Sam H. Muhaidly of Fullerton is this year's recipient of the Outstanding Senior Award.
Both scholars, who completed their studies in January, are showcases for what determination and passion can accomplish. They will be honored as part of the university's annual commencement ceremonies, beginning with the May 22 Honors Convocation in the Meng Concert Hall.
Graduate Award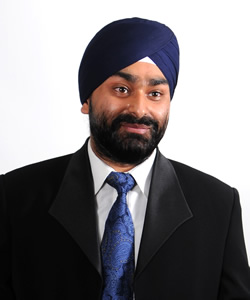 Baban Pal Singh - Alumni Association Outstanding Graduate Award Recipient
Baban Pal Singh comes from a family of business leaders and hopes to some day return to his native India to follow that tradition. To get there, however, the young scholar traveled thousands of miles to Cal State Fullerton, where he earned both his bachelor's and MBA in just four years.
Singh was a member of the campus chapter of Phi Beta Delta, the honor society for international scholars, serving as chapter coordinator, student president and a board member. He was a member of the Business InterClub Council where he was vice president for campus relations, and a student representative on the University Extended Education Academic Committee.
In addition, Singh was a student ambassador at the university's World Hunger Conference in 2008 and a student volunteer during Mihaylo College of Business and Economics' Professor for a Day in 2007 and 2008. Away from campus, he has volunteered more than 200 community service hours at the Sikh Gurudwara of Walnut.
Last July, Singh attended the Third Annual Global Forum of Athgo, an organization that engages young people in social entrepreneurship to promote environmental sustainability and economic development. The three-forum was held at World Bank Headquarters in Washington, D.C.
Since last summer, Singh has been a research assistant in the university's Center for the Study of Emerging Markets and currently is co-authoring two books with center director Joseph F. Greco.
"It's been an exciting opportunity … a real learning experience working with Dr. Greco," said Singh, who met Greco as a student in the educator's upper division International Finance course.
"Baban ranked in the top of my finance class, and his insightful comments and very active participation in class clearly demonstrated not only a strong interest in the subject, but also an exceptional understanding and knowledge in business and finance for a graduate student," said Greco.
"I was particularly impressed with his outstanding ability to grasp difficult concepts in finance and synthesize his impressive knowledge in a very clear and concise fashion," Greco added. "His outstanding analytical skills, as well as his hard-working attitude, should make him successful at his future academic, business and personal endeavors."
Singh says he is excited about starting a new chapter in his life. In October, he will join the international accounting firm Ernst & Young, serving in business advisory services.
"My long-range goal is to start my own business. But I do want to explore different avenues and perhaps start something related to finance or financial services," he said.
"Even though I'll be out of school, I plan to continue my education through professional certifications. I believe we should always keep improving ourselves."
Singh's family will travel from India to join him at Cal State Fullerton's annual commencement festivities Sunday, May 24. Singh will be a speaker at the accounting, finance and business master's degree celebration on the lawn north of Titan Gymnasium. The program will begin following the main universitywide ceremony.
Undergraduate Award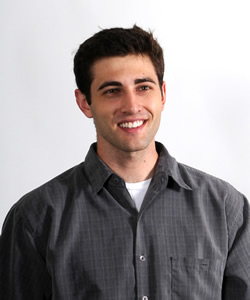 Sam H. Muhaidly - Alumni Association Outstanding Senior Award Recipient
Sam Muhaidly followed in the footsteps of his mother, Suzanne (B.A. Spanish '89, multiple subject credential '93), and sister Nadia (B.A. psychology '08) to attend Cal State Fullerton, but it was his own love of history that prompted him to focus on the subject, earning his bachelor's degree in January summa cum laude with an overall grade point average of 3.95.
"Sam truly is an outstanding student in every sense of the word, as even a brief glance at his transcript reveals," notes Lynn Sargeant, Cal State Fullerton assistant professor of history, who got to know Muhaidly in her senior research seminar on the Russian Revolution last fall. "Sam demonstrated his deep mastery of both the research skills and the intellectual characteristics of a true historian. His final paper, an intellectual history of the historiography of the Russian Revolution, was subtle, sophisticated and closely argued."
Muhaidly is more than just a good student, said Sargeant. "He is committed both to the practice and study of history … and to social and political involvement."
"There's a common humanity in history," says Muhaidly, who in addition to being a top scholar has been active as a volunteer for the ALS Association, Green Peace, World Wildlife Fund and Friends of the Ronald McDonald House Charities.
On campus, Muhaidly is a member of Phi Beta Delta, the honor society for international scholars; Golden Key International Honor Society; Phi Alpha Theta, the national history honor society; and the History Students Association. He was initiated into Phi Kappa Phi in April.
The young scholar is already working toward a teaching credential, with a future goal of completing a master's degree in history and eventually a doctorate in order to teach at the university level — although he hasn't given up the thought of a possible master's in political science and a future in politics.
He will take part in the Sunday, May 24, commencement ceremonies and will speak at the history and European studies program at the west entrance of the Humanities-Social Sciences Building. The department celebration follows the universitywide celebration at approximately 9:45 a.m.
Photos are available online at www.fullerton.edu/newsphotos.