A Guardian Scholar's Second Chance
Former Foster Youth Beats Odds to Earn College Degree
May 19, 2009
By Debra Cano Ramos
Cal State Fullerton graduating senior Adam Bateham doesn't know much about his birth parents or where they came from.
He's not sure if he's Vietnamese or Cambodian.
He wonders why he was born without limbs and questions whether it's because of herbicides used in Vietnam during the war.
About all he really knows about himself is that he was called "Baby Lee" at the hospital where he was born.
"I'd be happy just to have a picture to know what they looked like," Bateham said.
While he sometimes wonders about who his biological parents are and wants to know their past, one thing is for sure, he is certain about his future.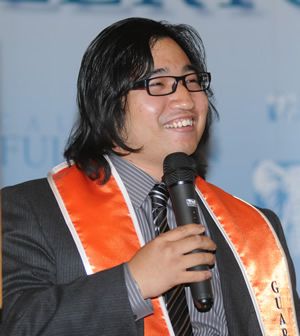 Guardian Scholar Adam Bateham was among graduating scholars lauded at a banquet held in their honor at the home of President Milton A. Gordon. Photo by Kelly Lacefield
The former foster youth wants to become a clinical psychologist so he can help others, with plans to one day be a university professor.
Bateham is days away from accomplishing his first step toward goals he set as a teenager. He will be graduating cum laude with a bachelor's degree in psychology at Cal State Fullerton's commencement exercises Sunday, May 24.
He quickly credits the university's Guardian Scholars program, which provides former foster youth a full scholarship and resources to attain higher education. The program, Bateham said, has given him not only the opportunity, but also much-needed support, to get a college degree.
"Guardian Scholars gave me a second chance … and for some of us, we never got that first chance," said the 22-year-old Fullerton resident.
"My biggest fear was that I wouldn't graduate. But now I'm confident and I'm prideful," said Bateham, who with a 3.65 GPA is a member Psi Chi, the National Honor Society in psychology, and the Golden Key Honor Society.
Ron Davis, retired chairman of the Perrier Group of America who helped launch the Guardian Scholars program at Cal State Fullerton, his alma mater, said that Bateham is one of the most remarkable people he's ever met.
"He is so inspirational to me because of all that he has accomplished and overcome in his life," Davis said. "Adam always exhibits a positive attitude, and he has a willingness and desire to help others in a selfless manner."
Bateham, who enjoys statistics and research, has been accepted into Cal State Fullerton's master's program in psychology and will begin classes this fall.
Fostering a Child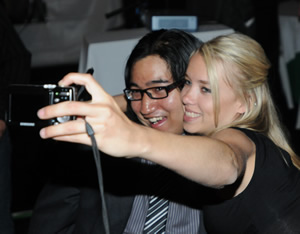 Guardian Scholar Adam Bateham with fellow scholar Melanie Demedenko at the recent banquet held to honor graduating scholars. Photo by Kelly Lacefield
At the beginning of his life, Bateham was thrust into the foster-care system. At birth, his parents left him at the Redwood City hospital where he was born on March 25, 1987. He was born without legs and has limited use of his left hand. He spent the first year of his life in foster-care.
When he was about 1, he went to live with Lorna Bateham, who eventually adopted him.
"My adoptive mom was amazing," Bateham said. "She was always encouraging and was the most loving person you would ever meet. She encouraged me to do the best that I could, and instilled in me that college was something I could do."
Lorna Bateham had two children of her own, and over the 17 years Adam lived with her and her family, she took in at least 25 foster children — some were drug babies and others had disabilities, he recalled.
"She had a heart that bled for everything and everyone," he quietly said, recounting the time she took in a young girl whose parents had starved her. "She just couldn't believe someone could do that to a child."
Living with his adopted family in Fullerton was not always easy, Bateham said. There were struggles with life's challenges.
"It wasn't always the greatest family life," he said, adding that his adoptive father is in prison. Despite the difficulties, it was a loving and caring family, he said. Today, he remains close to Bateham's daughter and son who are attending his commencement ceremony.
Bateham always tried hard to get good grades and even skipped the eighth grade to get into high school a year early.
One month before Bateham's graduation from El Dorado High School in Placentia, Lorna Bateham died of lupus. He was 17 and was placed at Orangewood Children's Home and spent eight months there. Bateham landed in a second foster home and lived with a family in Orange for about a year. That family also will be at his graduation and are planning a party in his honor.
Becoming a Guardian Scholar
In 2005, he began taking classes at Fullerton College, then transferred to Cal State Fullerton two years later. Bateham was offered a full scholarship at another university but chose Cal State Fullerton because of the Guardian Scholars Program and the network of resources and support it offered. He also wanted to remain close to family and friends, whom he counted on for rides to the grocery store or to doctor visits. Last June, he finally got a car of his own and has a newfound independence.
"Now I don't have to ask friends for help," he grinned, adding that he is excited about traveling to Europe this summer with a childhood friend.
Over the last three years, Bateham has been a peer mentor to foster youth and has coordinated independent living workshops for adolescents living at group homes, discussing topics such as dealing with conflicts and finances, getting a job and applying for college.
"It's satisfying to help other kids in the system. They have lost their families — they have been taken out of their homes. Some have been abused and neglected. It's nice for them to talk to someone — other than a staff member or caseworker — who they can trust and who knows what it's like to be in the system."
That is exactly what Bateham liked most about Guardian Scholars. The program, which started on campus in 1998, has given him a sense of belonging with people to whom he can relate and count on — just like a family. He has made lifelong friends and lauded the program's staff, donors and university administrators for providing emotional and financial support.
"The amount of encouragement and caring you get from everyone is incredible," he said. "We have such a strong sense of community: we hang out, we talk, we study and we go places together.
"My experiences here at Cal State Fullerton and with Guardian Scholars have helped me to define what I want for a career — and who I am."
Photos are available online at www.fullerton.edu/newsphotos.