Addressing the Achievement Gap
Campus Summit on Education Opens Dialogue
October 13, 2009
By Mimi Ko Cruz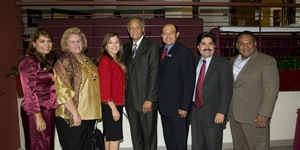 "Addressing the Acheivement Gap" speakers and panelists, from left: Sharon Quirk-Silva, Lucy Dunn, Loretta Sanchez, Milton A. Gordon, Lou Correa, Jose Solorio and Sal Tinajero. Photo by Stephen Weissbart
The U.S. Department of Education describes the achievement gap as the difference in academic performance between different ethnic groups. In California, the achievement gap exists between students of different minority groups, as well as with English learners, students in poverty and students with disabilities.
About 300 educators, school and business leaders, elected officials and community members gathered Oct. 2 at Cal State Fullerton in an effort to address the achievement gap.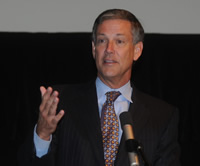 Jack O'Connell
"I believe this is the biggest civil rights challenge facing this generation," said State Superintendent of Public Instruction Jack O'Connell.
Cal State Fullerton President Milton A. Gordon agreed, saying the summit opens and fosters a much-needed dialogue.
"This summit is not the beginning or culminating event in addressing this important issue," he said. "It is one of many critical steps needed to ensure a long-term, countywide commitment to closing the achievement gap."
O'Connell presented statistics on the state's student population, showing a growth in poverty and a decrease in test scores.
His PowerPoint presentation is available for download.
"Our educational system serves as the vital building block in preparing the educated workforce needed to compete in an increasingly global economy. However, data demonstrates that an academic achievement gap exists and it threatens our ability to do so," said Fullerton City Councilwoman Sharon Quirk-Silva, the summit's committee chair. "To address this important issue, I, in partnership with Congresswoman Loretta Sanchez, California Sen. Lou Correa, California Assemblyman Jose Solorio and Santa Ana City Councilman Sal Tinajero, have been working closely with Cal State Fullerton to help create this important dialogue in Orange County. The goal is to discuss the achievement gap and address ways to mitigate it without additional financial resources. We believe this is a timely discussion given the fiscal crisis and decreased resources for education."
According to the Orange County Register, white and Asian students in Orange County outscored low-income students, Latinos and other minority groups by an average of 15 to 30 percentage points on state math and English tests, and the gap in scores has remained stagnant over the past decade.
Summit Highlights:
Wallace Walrod

Wallace Walrod, vice president of economic development and research for the Orange County Business Council, discussed "Workforce Trends 2009." He focused on demographic trends, language acquisition, dropout prevention, college preparation and focus on science, math, technology and engineering "that need to be addressed in closing the achievement gap" and gave examples of successful programs.
Lucy Dunn, president and CEO of the Orange County Business Council, moderated a legislative panel discussion with Rep. Loretta Sanchez, state Sen. Lou Correa, California Assemblyman Jose Solorio, Santa Ana Councilman Sal Tinajero and Rep. Ed Royce via satellite.

Juan Sepúlveda

Juan Sepúlveda, director of the White House Initiative on Educational Excellence for Hispanic Americans, delivered the keynote address. Sepúlveda was appointed to his position in May by Secretary of Education Arne Duncan. He is responsible for directing the White House Initiative efforts in engaging Latino students, parents, families, organizations and anyone working in or with the education system in communities nationwide as active participants in improving the academic achievement of Hispanic Americans. Sepúlveda spoke about President Barack Obama's plans to boost programs to close the achievement gap, including federal student loans; the Dream Act, that allows undocumented students to attend college and a chance to earn permanent residency; and initiatives to pay teachers and forgive their loans if they work in urban schools.
Jack Bedell, Cal State Fullerton professor of sociology and chair of anthropology, moderated a panel on "Community Conversations on the Gap." Panelists were Alicia Berhow, Orange County Business Council director of workforce development; Orange County Department of Education Superintendent William M. Habermehl; Rosa Harrizon of Padres Promotores de la Educación; Pablo Jasis, Cal State Fullerton assistant professor of elementary and bilingual education; Kim-Oanh Nguyen-Lam, Garden Grove Unified School District Board of Education trustee; Dawn Person, Cal State Fullerton professor of educational leadership; Debbie Schroeder, principal of Melbourne A. Gauer Elementary in Anaheim; Laura Schwalm, Garden Grove Unified School District superintendent; and Michael Stone, California Teachers Association Board member.
The "Addressing the Achievement Gap Summit" was sponsored by Cal State Fullerton, the city of Fullerton, CollegeBoard, Chevron, the Walt Disney Company, SchoolsFirst Federal Credit Union, Wells Fargo and the California Teachers Association.