'A New Brain' Featured in Festival of New American Musicals
'Desperate Housewives' creator Marc Cherry to Host Saturday Reception
January 6, 2009
By Paula Selleck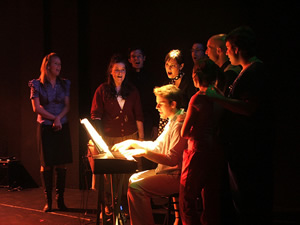 Cast members rehearse one of the tunes from "A New Brain" that opens today at the El Portal Forum Theatre. The Cal State Fullerton production runs through Jan. 10.
Cal State Fullerton's production of "A New Brain" is being staged this week at El Portal Forum Theatre as the opening attraction in the Festival of New American Musicals, and alumnus Marc Cherry of "Desperate Housewives fame is hosting a party on closing night for audience and cast members.
Five performances of "A New Brain" are being staged Jan. 6-10 at the North Hollywood theater. All performances are at 8 p.m., except Saturday's 2 p.m. matinee, and the weekend shows are highlighted by special events that follow. Friday night will feature a Q&A session with the musical's composer/lyricist William Finn, best known for "Falsettos" and whose credits include "The 25th Annual Putnam County Spelling Bee."
Ticketholders to Saturday's benefit performance will be invited to attend a post-performance reception at the home of "Desperate Housewives" creator Cherry, a Cal State Fullerton 1995 theatre arts graduate. Just 60 tickets are being sold for the Jan. 10 performance and reception honoring Finn, with proceeds benefiting the festival.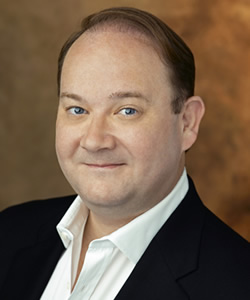 Mark Cherry
"A New Brain" was staged as a student production in the fall of 2007 at the university's Grand Central Theatre in Santa Ana, then had six-week run last summer at Santa Ana's Rude Guerrilla Theater. The production caught the attention of both reviewers and producers and was selected for this year's festival presented by the NoHo Arts District.
Director Patrick Pearson, a 2007 CSUF graduate who earned his M.F.A. in theater arts with a concentration in directing, feels fortunate to have retained eight of the 10 original cast members — all students or graduates, some of whom have returned from New York to be part of this latest production. Pearson has observed their growth as both individuals and performers, likening the atmosphere at their latest round of rehearsals to "old home week."
The cast's cohesiveness has allowed for some refinements, particularly in the musical numbers the cast members perform. All play instruments while on stage. Originally, that was Pearson's way of dealing with a limited budget — a design for the show that worked so well it won plaudits from critics.
"All the actors are quadruple threats," Pearson noted, "because . . . all the actors act, sing, dance and play all the instruments in the accompaniment, as well" — from piano and guitar to mandolin and ukulele.
The two new members of the cast are student Jesse Abeel, who portrays a doctor — a role that had been played by Gregg Hammer, now touring with the national production of "Jesus Christ Superstar" — and CSUF faculty member Eve Himmelheber (M.F.A. theatre arts-acting '95). She plays the role of the mother in this autobiographical musical based on Finn's own experience with a life-threatening brain tumor.
"This past Friday was the first time we were able to get all 10 actors in the same space," said Pearson. An intensive rehearsal schedule has followed, and the director is pleased with how well the ensemble has meshed. The newcomers, he said, "dove in head first and hit the ground running. They didn't miss a beat and made it fun."
They are joined by original cast members, now graduates, Jeffrey Aiken and Ashley Kane (B.F.A theatre arts – musical theatre '08). She was just cast in a La Jolla Playhouse production that opens later this winter.
Besides Abeel, the student cast members of "A New Brain" are: Fullerton residents Jesse Bradley, Kaitlyn Etter, Luke Jacobs, Aimee Karlin and Andrew Roubal, plus Corona resident Ryan Wagner, who plays the lead role of Gordon.
Also returning are Tina Marie Silva (B.A. theatre arts '08) of Chino Hills as stage manager and theatre arts major E.J. Brown of Fullerton as lighting designer.
Ticket prices for Jan. 6-9 performances range from $33.50 to $43.50 and can be ordered online.
Tickets for the Jan. 10 benefit show and reception also are available for $253.50 at 310-317-9599 or online.
Performances are at El Portal Forum Theatre, 529 Lankershim Blvd., North Hollywood, 92601.
Related Story: