Mothers Garner Scholarships
YWCA North Orange County Bestows Awards on Single Parents
August 12, 2008
Five Cal State Fullerton students have received YWCA of North Orange County's Thurmond Scholarship, an award dedicated to helping women 24 and older pursue a college education.
The recipients were recognized at the YWCA of North Orange County's recent annual meeting.
Part-time students April Barker and Joanne Perez were awarded a $1,000 scholarship each, and full-time students Sarah Erdogan, Kimberly Nelson and Tammie Shepler each received a $2,000 scholarship.
April Barker
Barker, a church teacher's assistant, part-time campus library assistant and full-time mother to an 8-year-old boy, is working on earning her bachelor's degree in liberal studies and a multiple-subject teaching credential.
She hopes to teach English in Argentina, then become an American elementary school teacher and work on her master's degree in administration and, ultimately, teach English in Africa.
Barker, of Lake Forest, said that managing her top priorities in life — family and career — has taught her to put a creative spin on her daily schedule.
"Managing these important aspects of my life is a juggling act," Barker said. "Family activities are scheduled in advance, and I usually bring required reading with me. I throw my bills in the backpack, and if I have some free time before class, or in the drive thru, I pull out my checkbook and pay them."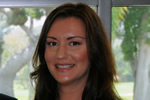 Sarah Erdogan
Sarah Erdogan
Erdogan, of Fullerton, attended trade school to become a medical assistant after high school, then took courses part-time at Fullerton College while tackling full-time jobs in sports medicine and transferring to Cal State Fullerton.
"I have realized the way I can be truly happy is to do more to help others," Erdogan said. "So here I am."
The daughter of immigrants, Erdogan experienced financial hardship firsthand during her childhood and plans to work with orphans from underdeveloped countries as well as those of low socioeconomic status.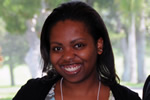 Kimberly Nelson
Kimberly Nelson
After taking four years off college to care for her daughter, who has cerebral palsy, Nelson has returned to school and is majoring in biological sciences.
In 2007, Nelson spent six weeks in the Southern California Ecosystems Research Program, researching the different ecosystems of Southern California and learning techniques and analysis skills.
She hopes to publish her findings as part of her coursework at CSUF and earn her bachelor's degree by May, 2009.
The 25-year-old single mother said she is determined to succeed.
"I am persistent," said Nelson, of Roland Heights. "When something does not work out for me, I continue trying until I am able to figure it out or achieve my goal."
Joanne Perez
Growing up around violence and overcoming an unstable relationship sparked Perez's passion for sociology. She plans to complete her bachelor's degree by May, 2009.
"I plan to be a social worker, helping families who have had the same struggles," Perez said in her scholarship application. "I would like to work with the Department of Public and Social Services in order to help people mend their lives for their family's sake."
Perez, of Fullerton, has worked at Troy High School in special education, teaching English, and serving at the Calvary Chapel as a helper for a 3-year-old with autism.
Though caring for her child and juggling two part-time jobs made her return to college a challenge, Perez hopes that attaining her degree will encourage her 12-year-old son his educational goals with similar passion.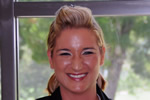 Tammie Shepler
Tammie Shepler
Shepler, of La Mirada, plans to graduate next year. When she does, she will become the first in her family with a college degree.
Breaking a 10-year hiatus, Shepler returned to college three years ago after having worked as a volunteer with youth ministries and counseling services for teenagers through nonprofit family advocacy programs. Shepler is an English major and hopes to eventually earn a master's degree in communications.
"I am of the firm belief that the best investment one can make is in people," Shepler said. "I am investing in myself through education, so I can better invest my life into as many people as I can."
To qualify for the scholarship, applicants must be at least 24 years old, have a 2.0 or higher grade point average and be working toward completing an undergraduate degree, said Diane Masseth-Jones, executive director for the YWCA of North Orange County.