Empowering and Healing
Anti-Rape Discussion Kicks Off Women's Center Lecture Series
September 30, 2008
By Mimi Ko Cruz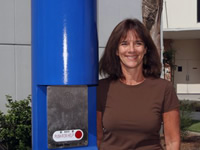 Susan Leavy
Susan Leavy wants men to be part of the fight against rape.
"Even though most men don't rape, 99 percent of all rape is committed by men," said Leavy, coordinator for the campus Women's Center Prevention of Crimes Against Women Program.
"It's critical that we educate men to watch each other and initiate shoulder taps, 'I don't think it's a good idea to go into the bedroom with that woman, you are both drunk.' If we spent as much time explaining to men how important it is to respect women as we do telling women how to 'be careful,' 'don't let anyone touch your drink,' 'don't ever leave your friend at a party alone,' etc., we might make a dent in the problem of sexual assault," she said.
Leavy recently presented "The Truth About Sexual Assault" as one of the noon lectures offered at the Women's Center. Her discussion included an airing of the "Step Up and Stop It" video, which features two rape victims telling their stories and how a group of fraternity brothers help prevent rape situations.
"Rape isn't a woman's problem," Leavy said. "It's a societal problem."
She said the video made its debut in January and has served as a powerful teaching tool.
The Women's Center noon lectures, free and open to the public, are held in Room 205 of University Hall. Upcoming talks include: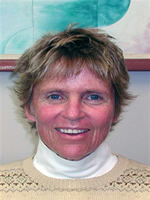 Barbara McDowell
• Oct. 6: "What Does Leadership Look Like?" — Valerie O'Krent, lecturer of women's studies, will discuss leadership as it relates to families.
• Oct. 7: "Leadership and Self-Esteem" — Barbara McDowell, director of the Women's Center, will talk about the impact of self-esteem on leadership and gender.
• Oct. 8: "Women & Leadership Panel: Becoming a Successful Business Owner" — Joni Norby, associate dean of Mihaylo College of Business and Economics, and Mike Trueblood, director of the Family Business Council, host a panel discussion on effective ways women can promote and support female business owners.
• Oct. 14: "Breast Health 101" — presented by the Susan G. Komen Foundation, Orange County chapter.
• Oct. 15: "A Woman's Voice in Interviewing" — Patricia Hymes and Elizabeth Zavbala-Acevez of the Career Center lead a workshop on interviewing techniques and strategies.
• Oct. 21: "He Loves Me, He Loves Me Not" — Beth Chapman and Robert Diaz of Human Options, a program that helps battered women and their children, share how some relationships can potentially be dangerous.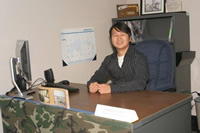 Joseph Chang
• Oct. 22: "Avoiding Abusers: Using Intuition to Identify Red Flags and Assessing Risk" — John McLaughlin of Borders, McLaughlin & Associates, will discuss the red flags of abusive behavior and what can be done when faced with them.
• Oct. 28: "Domestic Violence Behind the Veil of Affluence" — Vivian Clecak, executive director of Human Options, will address the reasons affluent women are less likely to seek help for domestic violence.
• Oct. 29: "Election 2008: How Will You Vote This Time?" — Shelly Arsenault, associate professor of political science, will offer a perspective on the upcoming presidential election.
• Nov. 4: "CSUF Services for the New Veteran: Are We Doing Enough?" — Joseph Chang, coordinator for veteran services, will share his stories of transition from military to civilian life, and talk about the university's support services for veterans.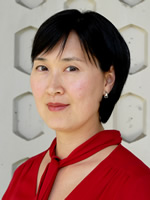 Eliza Noh
• Nov. 5: "Suicide Among Asian Americans" — Eliza Noh, assistant professor of Asian American studies, will discuss her research and book on Asian American women and suicide.
• Nov. 12: "Latino/Latina Healing Traditions and Spirituality: The Mestizo Perspective" — Joseph M. Cervantes, professor of counseling, will share the spiritual and healing traditions in Latino communities.
• Nov. 18: "Are You Plagued By the Feeling of Not Being Good Enough?" — Sue Passalacqua, associate director of the Women's Center, will talk about why people suffer from the so-called "Imposter Syndrome" and what it takes to overcome it.
• Nov. 19: "Cyber-Bullying" — Elahe Amani, director of technology services for Student Affairs, will discuss cyber-bullying, high-tech incivility and electronic harassment.
For a complete list of Women's Center offerings, visit the Women's Center calendar of events.