Offering Services
Late Administrator's Grant Makes Community Center Possible
November 11, 2008
By Mimi Ko Cruz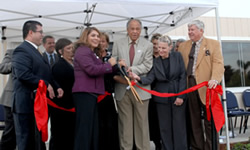 Cal State Fullerton administrators, city officials, community members, residents and the late Donald S. Castro's family gathered Nov. 4 to officially open the Valencia Community Center. Mayor Sharon Quirk and President Milton A. Gordon, center, cut the ribbon. Photo by Kelly Lacefield
A new building that will house after-school programs, as well as parenting, civics and English classes and other community learning projects has opened, thanks to the efforts of the late Donald S. Castro, special assistant to Cal State Fullerton President Milton A. Gordon.
The building, called the Valencia Community Center for now, was Castro's brainchild. The center was part of a project to assist members of the low-income neighborhood in Fullerton, which was funded by a $599,525 U.S. Department of Housing and Urban Development grant.
"Dr. Castro's vision was to create a place where families from west Fullerton could receive services and take classes to enrich their lives, engage in creative learning activities, prepare for jobs and careers, and also to have fun," Gordon said Nov. 4 at the center's ribbon-cutting ceremony. "He foresaw that an expanded facility would provide much needed space for services and encourage more use by children and their parents.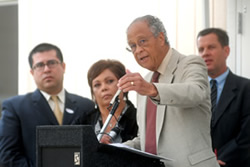 Cal State Fullerton President Milton A. Gordon acknowledged the late Donald S. Castro's vision that made the new community center possible. Photo by Kelly Lacefield
"Because of Dr. Castro's commitment, Cal State Fullerton is helping to fulfill its mandate as an Hispanic-Serving Institution in assisting the community. He wanted the university to be able to point to milestones that mark our progress in meeting the needs of our diverse community and especially the needs of the Latino community. With this center, we are working toward accomplishing this commitment."
Last month, members of Fullerton's Parks and Recreation Commission voted to recommend that the Fullerton City Council approve a proposal to rename the building the Dr. Don Castro Center. The commission's recommendation now will be considered by the City Council. A date to hear the proposal has not been set.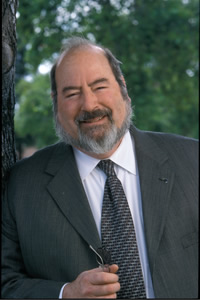 Donald S. Castro
The center will be equipped with computer stations and work areas in the next two weeks.
Related Stories: