Prepping for Grad School
Undergraduates Gain Research Experience Through Competitive Programs
December 9, 2008
By Mimi Ko Cruz
Undergraduates Carmen J. Cortez, Diana Lira and Linda Vasquez have completed competitive all-expenses-paid research programs that they say have prepared them for the rigors of graduate school.
The seniors are on track to receive their bachelor degrees in the spring and plan to seek master's and doctoral degrees in their respective disciplines.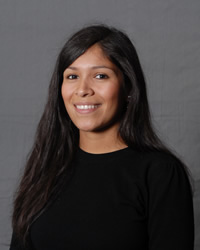 Carmen J. Cortez
Carmen J. Cortez
Cortez, a biological science major, spent the summer as a researcher in two programs — the University of Florida-University of Cape Coast Research for Undergraduates in Ghana, West Africa; and UC Davis' Summer Undergraduate Research Program.
Both involved environmental research. As part of her research in Africa, Cortez said, she studied plant ecology.
"I had a principal and central role in developing the experimental protocol, data acquisition, data analysis and interpretation for my study, giving me a first-hand experience and enhancing my skills as a researcher," she said, adding that she has written a paper on her fieldwork. "Conducting the study in a developing country like Ghana is similar to building a house. You construct it, but you do it with fewer tools than you would use in this country. Subsequently, this experience enabled me to become more innovative, resourceful and flexible."
Cortez said she also gained scientific expertise in the field of pollination biology and the ecology of cocoa agro-forestry.
"Ghana taught me that to live happy, you do not need to continuously increase your material wealth," she said. "I left Ghana as a more critical, self-reliant biologist with a different understanding of the world and a desire to continue to conduct research."
At UC Davis, Cortez conducted fieldwork in the Sierra Nevada native grass seed zone.
"I learned how to identify some California native grass species," she said. "Through that experience, I enhanced my knowledge of fieldwork and I learned more about eco-physiology in plants."
The subject, she said: "is important because we are all in a rapidly changing world — a world in which those who are in power seek to homogenize society and are, unfortunately, those who perpetuate a system that continues to exploit people and our natural resources. In this changing world, there needs to be a different outlook to the coexistence of our civilizations and natural process of the environment."
Cortez, of Lynwood, plans to develop that outlook by earning a doctoral degree in biological science and continue research "to better understand different ways of sustainability and conservation of biodiversity."
"After I receive my Ph.D, I hope to teach at the university level, where I can continue to do research and mentor students, particularly students of color, in the sciences to bridge social justice with the environment and conservation biology," she added.
The research programs, coupled with Cal State Fullerton professors, mentors and programs, including the McNair Scholars and Educational Opportunity Program, have prepared her for graduate study, Cortez said. "I also feel confidant that I will succeed in graduate school."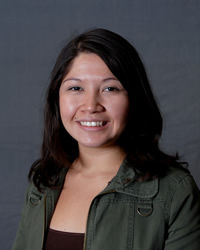 Diana Lira
Diana Lira
Lira, of La Puente, spent the summer at UC Berkeley as part of the Public Policy and International Affairs Fellowship Junior Summer Institute.
During the program, she enrolled in three courses: economics, quantitative methods for policy analysis and policy analysis. She said experts in public policy positions delivered the lectures.
"I produced four policy memos," the business administration major said. "The program was a small sample of the workload of a public policy graduate student. I enjoyed the program very much, however it was intense and challenging. Today, I am thankful because I feel much more prepared and motivated to apply to the top public policy graduate schools."
The program, she said, taught her that "the voices of students from underrepresented communities are missing in the discourse of policy decisions."
Lira said she hopes to fill the void by continuing her studies.
She credits Cal State Fullerton for preparing her for the program, which awarded her a $5,000 scholarship.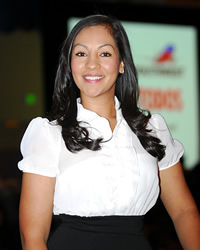 Linda Vasquez
Linda Vasquez
Vasquez, of Garden Grove, is taking part in the Global Learning Semesters Program in Cyprus this semester.
She is enrolled at the University of Nicosia, the leading university in Cyprus.
"It is so much work, but I enjoy ever minute of it," the political science major said. "Not once do I regret leaving California for this opportunity. You just have to take a chance and get out of your element to get far in life."
Vasquez will return to Cal State Fullerton to complete her studies in the spring.
Last summer, she participated in the Summer Research Opportunities Program at Indiana University and Purdue University underwritten by a $3,000 scholarship.
The political science major conducted a study of Latino immigrant student-teacher relationships as her research project. She said as part of the program, she learned how to conduct her study and write about it. She presented her research at Michigan State University at the end of the eight-week program.
"I am very grateful for being chosen to participate in the program because I definitely got a feel for what graduate school will be like," she said. "There was no free time for me. Many times, I found it very overwhelming. You really have to be studying night and day because it is easy to get behind. I was very fortunate to be paired with a mentor who was genuinely interested in my career goals and was dedicated to making my experience one that would last."
Cortez, Lira and Vasquez also took part in a Graduate Record Examination preparation course as part of their respective research programs.
Kudos from a Professor
"As one of the mentors for these students, I have seen great maturity and professionalism by them over the last four years," said Alexandro J. Gradilla, assistant professor of Chicana and Chicano studies. "I am not surprised to see that they excelled in their prestigious research programs. These women reflect the commitment of Cal State Fullerton, as a Hispanic Serving Institution, to the development of the best and brightest talent. Linda, Diana and Carmen are important role models for all students, regardless of background. I am absolutely thrilled by the thought of how their CSUF degree will benefit so many people, communities and households. It is difficult to fully comprehend the overall gains."