A Sense of Place
Troy Students Spend Summer on Campus Helping Computers React to Sensory Inputs
August 5, 2008
By Russ L. Hudson
Three Troy High School seniors are conducting research this summer with Spiros Courellis, assistant professor of computer science.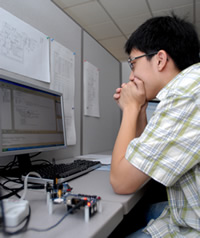 Ivan Check pores over his networking efforts. Photo by Kelly Lacefield
The trio — Ivan Check, Jason Moon and Bryan Wong — are "participating in research involving writing software that allows miniature computers to sense their environment, talk to each other and intelligently react to their sensory inputs," Courellis said. "Wearable sensors for health care, field deployable sensors for environmental purposes and interactive robots are among the target recipients of this technology."
Check, Moon and Wong were selected to take part in the summer research after Courellis approached administrators at the highly ranked magnet high school. It is the first time that faculty members from the College of Engineering and Computer Science have worked with Troy High School students.
Courellis noted that all three students are interested in pursuing careers in engineering and computer science.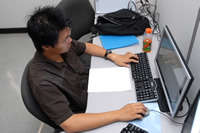 Jason Moon goes over his coding in Java, a programming language.
"They aspire to obtaining advanced degrees and to be involved in research and development," he said.
The students said that Cal State Fullerton was on their list of universities they would like to attend after graduating from Troy. Check said he will be taking a math class at Cal State Fullerton this fall.
"There are very bright students at Troy," said Courellis, who added that he might well see if more can work with him next summer.
"The idea," he said, "is to give them a sense of what it is to be in an academic environment and to work in advanced computer science."