Troops to College:
Cal State Fullerton to Reach Out to the Military and Their Families
March 10, 2008
By Valerie Orleans
One of the benefits of serving in the United States military is the GI Bill — a legislative act mandating a set of benefits for this country's veterans, including assistance in paying for a university education. California leads the nation in the number of veterans: 2.2 million out of an estimated 24 million nationwide.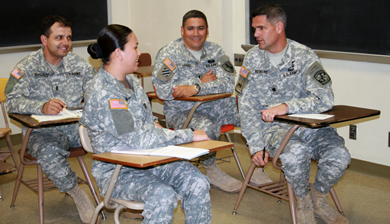 As part of its efforts on behalf of military personnel and veterans seeking a college education, Cal State Fullerton is looking at not only opportunities on campus but video-conferencing and online programs that can be seen on base at a convenient time.
"We want to encourage members of our military service to come to Cal State Fullerton to further their educational goals," said President Milton A. Gordon. "For that reason, we have assembled a group of deans, faculty members, students and administrators to create a newly formed Military Relations Advisory Board to explore ways to reach out to our servicemen and women, and their families."
Cal State Fullerton is already home to an Army ROTC program and has a student veterans group, but additional plans are underway to develop new tools and programs to welcome veterans and active duty military.
"Most solders come from what is considered a tight military family," said Col. Patrick Gough, deputy commander Marine Corps Installations West and president-elect of CSUF's alumni association. "As a member of a military unit, they are used to working together and helping one another. It can be hard for them to adjust to a campus the size of Fullerton. That's why special programs and student groups can be invaluable in helping them achieve success."
For instance, Cal State Fullerton is considering developing more online and video-conferencing classes. This would allow troops at Camp Pendleton or other bases to take classes without having to leave base.
"In Iraq, troops are often on rotating shifts that are 12 hours on, 12 hours off," said Lt. Col. Charles Johnson, commanding officer of the Wounded Warrior Battalion West. "However, because there often isn't much else to do, sometimes the soldiers will just stay at their posts. If they were able to take classes and work toward a degree, many would jump at the chance."
According to Retired Col. Bucky Peterson, there are 14,556 California-based veterans pursuing university degrees under the GI Bill. Of this number, 11,996 are attending community colleges, 2,209 are attending California State University campuses and 351 are attending University of California campuses. The final 5,507 are attending private colleges. Cal State Fullerton currently has 145 students attending classes here on the GI Bill.
Development and programs the campus is considering include outreach programs to veterans, academic advisement, financial aid advisement, more distance learning programs and developing partnerships to enhance the university experience for veterans and active duty military.
"One of the things we've seen that is important for veterans' success is a support team or group," said Peterson.
Wounded Warriors
There is another military group that Cal State Fullerton is eager to assist. Those are the "wounded warriors" — marines and sailors who have been injured in service to their country.
Plans are underway to develop video-conferencing so that classes can be conducted and viewed in facilities at Camp Pendleton. University Extended Education has taken a leadership role to provide and support equipment at Camp Pendleton so marines and sailors can participate in classes while recovering from their injuries or illnesses.
Cultural Awareness
CSUF also is working closely with the Marine Corps to advise them of classes that might enable military personnel to better understand the people they are trying to help. Classes in languages, history, political science, religion, sociology, psychology, anthropology — and many others — all help the military develop a greater empathy and bond with the people of other nations.
"Courses that can help us understand and connect with people of other cultures are beneficial," said Gough.
It Is Our Responsibility
"This will be a major effort for us," said Silas Abrego, associate vice president for student services and a Vietnam War veteran. "We're going to make the Troops to College program a success at Cal State Fullerton."