Titan Wrestlers Among Most Improved
CSUF in Top 10 for Academic Improvement
September 16, 2008
From Sports Information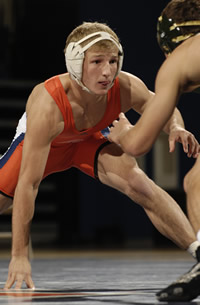 Senior T.J. Dillashaw
The National Wrestling Coaches Association has released the Academic Progress Rating leaders for the 2006-07 season which showed that Cal State Fullerton was one of the top 10 schools in terms of improvement from the previous year.
Northwestern was the overall APR leader with a score of 992. Binghamton University improved 29 points to lead the most improved category.
"We are proud of the teams on this list for showing a strong commitment to academic excellence. The NWCA would like to the thank the coaches, administrators, athletes and the academic supports staffs of these programs for their efforts in maintaining or striving towards a high academic performance rating," said Mike Moyer, NWCA executive director.
The APR was put in place by the NCAA in an effort to improve the academic success of NCAA Division I student-athletes.
Moyer added, "These numbers are a great step in the right direction, but there is still a lot of work to be done. The NWCA will not be satisfied until wrestling is among the top sports in APR rating."
APR Rankings: Based on latest NCAA public data
Top 10 Overall
SCHOOL CONFERENCE SCORE
1 Northwestern Big 10 992
2 Penn State Big 10 988
3 Pennsylvania IVY/EIWA 984
4 Duguesne East Regional 984
4 Navy EIWA 983
6 Stanford Pac 10 982
7 Lehigh University EIWA 981
7 Air Force Mtn West 981
9 Iowa State Big 12 979
10 Harvard IVY/EIWA 978
Most Improved
SCHOOL IMPROVEMENT POINTS
1 Binghamton 29
2 Arizona State 27
3 Campbell 22
4 Rutgers 21
4 Buffalo 21
4 George Mason 21
7 Maryland 20
8 Tennessee at Chattanooga 18
8 South Dakota State 18
10 Cal State Fullerton 17
10 Minnesota 17
12 Hofstra 15
12 UNC Greensboro 15