Alumnus Named County Teacher of the Year
Alastair Inman Vying for State's Top Teaching Award
July 22, 2008
By Debra Cano Ramos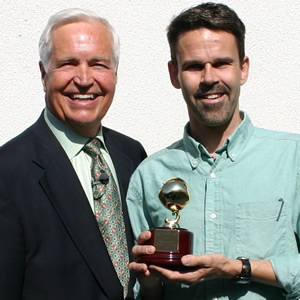 Orange County Department of Education Supt. Bill Habermehl presents Alastair Inman, one of the 2009 Orange County Teachers of the Year, with a "golden apple" award. Photo by Laura Watson, Orange County Department of Education
From among more than 23,000 teachers in Orange County, local teacher and alumnus Alastair Inman was selected as one of five Orange County Teachers of the Year.
Inman, a science teacher at Lexington Junior High School in Cypress, was among four K-12 teachers and a community college instructor given the top teaching honor.
The educator, who completed Cal State Fullerton's single subject credential program in biological science this year and lectures in biological science on campus, now is among the nominees for state teachers of the year honors. State Supt. Jack O'Connell is expected to announce recipients of the California Department of Education award in November.
For the county award, 57 teachers were nominated from K-12 schools, community college districts and Regional Occupation Programs (ROP), according to the Orange County Department of Education.
Inman's science-teaching career has spanned more than 20 years, first as a college professor and now as a junior high school teacher. In 2001, he joined the Anaheim Union High School District after teaching at several universities, including the University of Toronto, Wesleyan College and Knox College.
Born in London, Inman grew up in Canada where a science teacher inspired his love for the subject. He earned a bachelor's degree in biology from McGill University in Montreal, Canada, and a doctorate in zoology from the University of Oxford in England.
The educator, who describes his classroom as a "high-energy, enthusiastic environment infused with the latest technology," called his work as a junior high school teacher the most rewarding in his career. "Teaching at Lexington, I feel satisfaction in my work now that I have never felt as a college science professor."
It's a privilege to be able to guide young people as they "explore our natural world through the fascinating, creative and exciting process of science," Inman said. "There is no greater reward than seeing each student develop as a complete person — socially and ethically, as well as academically. I cannot imagine a more satisfying or fulfilling profession than being a teacher."
Helen Taylor, professor of secondary education, noted that her former student is deserving of the award. "We are very honored to have had him in our credential program. He is a very dedicated, intelligent teacher who is genuinely interested in seeing students learn and be successful. I have had the privilege to work with him as a teacher in the Anaheim Union High School District and as an intern in our program."
Inman received a limited edition lithograph from Disneyland Resort and a "golden apple" award from Orange County Department of Education Supt. Bill Habermehl. Inman also will receive a $15,000 cash award from the James Hines Foundation at the Teacher of the Year awards dinner Nov. 19 at the Disneyland Hotel. The Orange County Department of Education and SchoolsFirst Federal Credit Union host the event where all nominees will be honored and receive awards.