Back to Traditional Dorm Living
Designer/Builder Team Selected for Third Phase of Campus Housing
July 29, 2008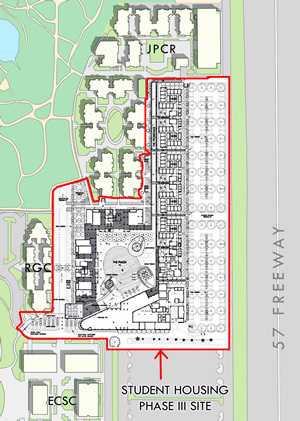 An aerial view of the new student housing project.
Cal State Fullerton's third phase of student housing will be a return to the more traditional idea of campus living: dorm rooms with a central kitchen/dining facility.
Proposed is a 1,000-bed, multiple five-story building complex that will feature double occupancy rooms with shared restrooms, lounges, study rooms and kitchenettes.
There also will be a conference room, a laundry area, mail room, convenience store and central dining area — where students from all three residence halls as well as faculty and staff members can dine.
The design/builder team is Steinberg Architects and PCL Contractors for the $120 million budgeted construction project. The team is working on the final design, said Michael Smith, director of design and construction. The project manager is Steven Chamberlain, who was in charge of the previously completed second phase of student housing.
The facility will be constructed adjacent to and just south of the existing residence halls in Parking Lot E. A new 1,500-space parking structure is planned, north of the Fullerton Marriott to compensate for the loss of existing surface parking on the site. Construction for that project is slated for completion in spring 2010.
"This is much more like the traditional dorms that older universities tend to have," Smith said. "Previously, we've built facilities that were more like four-bedroom apartments with their own living and dining rooms and kitchen."
Site preparation and construction is expected to begin sometime during in December with completion planned for fall 2011 occupancy, Smith said.
Also In the Works
Site preparation is being done for the reconfiguration of the South Campus Drive/Nutwood Visitor Parking Lot in front of campus. The remodeled parking project will include a new drop-off/pick-up turnaround in front of Langsdorf Hall and will provide for disabled and special-use parking. Completion of the project is expected early this fall.