Engineer Builds an Election Model
Professor's Statistics Show a Win for Obama in November
November 4, 2008
By Russ L. Hudson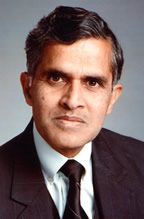 Chandrasekhar Putcha
A new statistical model for predicting elections shows Obama will win the presidential election by a wide margin.
Chandrasekhar Putcha, a Cal State Fullerton professor of civil and environmental engineering, and a student developed the statistical model using results from a series of state-oriented polls and the national Gallup Poll.
Putcha, the university's 2006-07 recipient of the Outstanding Professor Award, worked with Michele Gomez, a senior McNair Scholar double-majoring in business administration and Spanish, and Gerald Bryant, director of the McNair Scholars Program, were the principles in the project. Putcha developed the model; Bryant helped refine the model and select the factors for which consistent data were available; and Gomez did the numbers-crunching as part of her McNair research project.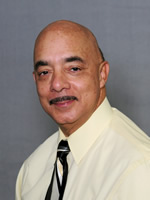 Gerald Bryant
"The economy, the incumbent strength — that would be McCain because he is in the incumbent party — the challenger strength, the Iraq War and the race factor were considered," explained Gomez. "For race, we included Hispanics, blacks and whites, the largest voting blocs.
"We went state-by-state, taking results from the Rasmussen Reports, Survey U.S.A. and American Research Group, Inc., using the most up-to-date polls. Then, we incorporated the national Gallup Poll for overarching results. Each of the pollsters used their results to determine which factors voters felt were most important and we weighted our results accordingly," Gomez said.
A few things were not included because of unavailabile data.
"We had to use census data from 2004 because it was the latest census, even though we knew probably more blacks would register to vote this year because of Barack Obama," Gomez pointed out.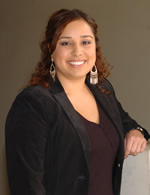 Michele Gomez
Gender couldn't be included in spite of Sarah Palin being on the ticket, "simply because she was chosen so late in the campaign we couldn't get numbers in time," said Putcha.
The findings won't be officially presented until the Western Political Science Association Conference March 19-21, 2009, in Vancouver, British Columbia, Canada. But, Putcha said, the numbers are in and they say Obama wins by at least 10 points in the popular vote and by at least 20 electoral votes.
Cal State Fullerton's McNair Scholars program encourages students to pursue graduate degrees by pairing professors with students on research projects.
Related Links:
CSUF Says Obama to Win by 'At Least' 10 Points