Congreso de Periodismo
Spanish Journalism Conference brings industry pros to campus for daylong activities with students
October 14, 2008
By Iris T. Preciado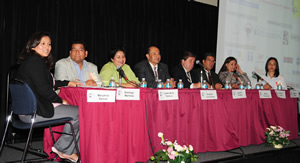 Taking part in the opening address of the Oct. 3 Spanish Journalism Conference were, from left, Marytrini García, CSUF Society of Professional Journalists; Domingo Martínez, Fundación Yanga-Veracruz USA; Lilian de la Torre J., founder of Bodas USA La Revista magazine; Sen. Lou Correa (D-Santa Ana); Agustín Pradillo, spokesman for the Santa Ana Mexican Consulate; Martín Plascencia, Telemundo KVEA-TV reporter; America Arias and Fabiola Ortíz, CSUF Society of Professional Journalists. Photo by Kelly Lacefield
On Friday, Oct. 3, Cal State Fullerton hosted the 2nd Annual Orange County Spanish Journalism Conference, or 2do Congreso de Periodismo, bringing together Spanish journalism and communication professionals from Orange and Los Angeles counties for a series of workshops focusing on the subject of Spanish multicultural journalism.
The conference explored multicultural communication within Spanish media and the challenges of addressing Spanish speakers from different countries of origin. Other topics included new reporting techniques and technologies, citizenry reporting and content creation, immigration and other current hot topics, blogging and much more.
Reporters and professionals from TV station Telemundo, as well as, La Opinión, Excélsior, Miniondas and Farandula USA newspapers and many other local media outlets took part in the day's activities.
The event was organized and sponsored by CSUF and its Society of Professional Journalists, the Student Organizations Accessing Resources – Communications InterClub Council, Associated Students Inc., as well as Orange County non-profits and community organizations Casa Guanajuato and Fundación Yanga-Veracruz USA.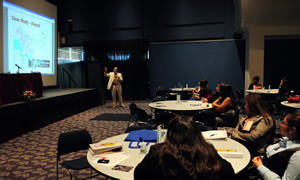 Tony Gracia, CEO of Power Media Group, addresses students during a presentation on multicultural advertising during the daylong Spanish Journalism Conference in the Titan Student Union. Photo by Kelly Lacefield
As part of the day's activities Telemundo KVEA-TV reporter Martín Plascencia, made time to meet with students and answer their questions. "This type of exchange benefits us all. I enjoy speaking with students because I too went through what they are going through," said Plascencia of the students seeking out expert advice and internship or job opportunities in this growing industry.
The pros were able to interact with students from Cal State Fullerton and various community colleges, including Fullerton, Cerritos, Pasadena City, Oxnard and Santa Ana. Among the students in attendance was Katherine Orozco, a Cal State Fullerton journalism major eager to break into Spanish broadcast journalism.
"I definitively enjoyed the Spanish Journalism Conference. It was a great opportunity to get my questions answered," said Orozco. "Now, I have a clearer vision of what I want to do in the future and the steps I must take to get there. Listening to all those people, who have done so much for the Latino community, motivated me to work for the Hispanic media here in the United States," she said.
One of the event organizers, also a reporter for Orange County Spanish newspaper Miniondas, Jeannet Hernández added, "It's important for those of us in the business to brainstorm about ways to improve the content and quality of Spanish media. It's also vital to include students and the community in order to better our relationships and image and reinforce our commitment to communicate responsibly with the Hispanic audience."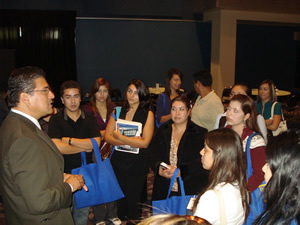 Students gather around Martín Plascencia, Telemundo KVEA-TV reporter, following his presentation at the second annual journalism conference. Photo by Adolfo Sierra
"Thanks to this, the 2nd Spanish Journalism Conference, we have walked away with a strong commitment on behalf of the media to unify resources in order to improve upon our strengths and examine our weaknesses and to help students pursuing careers in communication to establish solid and clear goals as to the professional opportunities that exist in the market," added Hernández.
At the conclusion of the day's activities those in attendance agreed that the year ahead will bring an opportunity for a third conference that will add to the success of this year's agenda, as well as continue to serve the future of the industry and those students committed to careers in this specialized field.