How Will You Vote?
Q&A With Political Scientist on The Nuts and Bolts of Election 2008
October 21, 2008
By Mimi Ko Cruz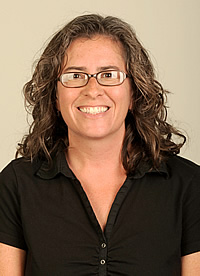 Shelly Arsenault
Shelly Arsneault, chair and associate professor of political science, will deliver a perspective on the upcoming presidential election Wednesday, Oct. 29, in Room 205 of University Hall.
The free noontime presentation, sponsored by the Women's Center, will focus on the presidential candidates, major policy topics and the ballot propositions.
Q: Will there be any surprises in the upcoming election?
A: I think the surprises are already out there. Sarah Palin was a surprise, her daughter's pregnancy was a surprise, but those were ages ago in the course of a presidential election season. The economy is the real surprise now. We all knew that the housing bubble had burst, we knew that people would lose their homes, but I don't think that the average person knew that longstanding investment firms like Merrill Lynch and Lehman Brothers would be hit. I don't think that we expected major banks to fail or the stock market to fall 40 percent in the course of a year, nor would many have predicted a $700 billion federal bailout of Wall Street. The only big surprise now would be capturing Bin Laden, but I only give that about a 30 percent chance.
Q: Will a large voter turnout make a difference this year?
A: It is common to hear the refrain that 'turnout will be important' during a presidential election. The most important question is who turns out? The Democrats registered large numbers of young people during the primary — largely as a result of Barack Obama's candidacy. We saw record voting in the primaries as well and if those voters show up again, particularly younger and African-American voters, that will make an enormous difference. For the Republican Party, the key to the Palin VP pick is that she energizes the conservative base. Republicans disaffected by the McCain candidacy, and there were plenty of them, will turn out because of Palin. On the other hand, Republicans are always more likely to vote than Democrats, so I'm not sure how many would really have stayed home on election day, with or without Sarah Palin on the ticket.
Q: Why is it important to vote?
A: People always ask that. We all know that one vote rarely makes a difference. But, of course, your single vote is not the point. The point is that the role of citizen is an important one. It means that you are part of a whole. With that position comes many responsibilities. Voting is just the easiest one to exercise. You vote, you pay attention, you participate, you contact your representatives and you get involved in your community and your country because you live in a society — as Aristotle said, man is a political animal. The rights of citizen are not a one-way street — this is what makes us more than consumers of our democractic republic — it's a participatory system and if we don't participate we risk a lot. How do you think we got the current economic crisis?
Q: Why should college students vote?
A: College students are in the age demographic with the worst voter turnout, and let's face it, that gets them nowhere. While my favorite examples typically come from Social Security and Medicare, let me be even more obvious for students: Cal State Fullerton is a public university that receives public funding. Elected representatives have, for the past decade, underfunded the CSU system and that underfunding affects students in the form of higher fees, bigger classes, fewer classes from which to choose and longer times to graduation. When students complain that they can't get their classes and they won't graduate on time, the bottom line of that problem is the bottom line: funding. This is a very political process and when college students don't vote, don't participate, don't let elected representatives know their priorities, they feel the consequences.
Q: Is there anything else you'd like to stress about the upcoming election?
A: It's easy in a presidential election year for presidential campaigns to overshadow all others, but let's remember that in California, we'll be voting for Assembly and Senate members, local officials, and a dozen ballot propositions. There is much at stake. People need to make sure they are as informed as possible and, then, vote.
Arsneault earned her doctorate and master's degree in political science from Michigan State University. She graduated magna cum laude with a bachelor's in political science in 1990 from Cal State Fullerton. Her research interests include American politics, federalism, voting behavior, public opinion, public administration, poverty policy, policy analysis, bureaucratic politics, organization theory and modern political philosophy. She currently is working on a book on public administration, public policy and nonprofit organizations. She also serves as an adviser for the student group Politically Aware Titans and the public administration honors society, Pi Alpha Alpha.