Get Ready for Rumble
Great Southern California Shakeout Drill Hits Campus Nov 13
November 4, 2008
By Russ L. Hudson
Across the state, millions of residents will be participating in the largest earthquake drill ever in the United States: the Great Southern California Shakeout Drill Thursday, Nov. 13.
On campus, faculty, staff and students also be diving under desks, experience sixty seconds of ominous rumbling and then will evacuate buildings during the morning exercise.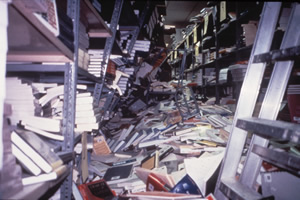 If a big quake were to strike Cal State Fullerton, the campus could also find itself offering classes in tents, like Cal State Northridge.
The campus exercise will begin with an announcement over loudspeakers that an earthquake has started. All campus members and visitors are supposed to "drop, cover and hold on," meaning drop and get under something sturdy and hold the position until the shaking stops. During the drill, the all clear signal will be when the "earthquake rumbling" stops playing over loudspeakers.
Then campus members are to evacuate buildings, moving approximately 150 feet away from any structures — about half a football field.
"We will monitor how it goes so we can look for improvements," said Tom Whitfield, director of Environmental Health and Instructional Safety, who is coordinating the campus drill. "Geology students from the College of Natural Sciences and Mathematics will be stationed across campus. Some will be in buildings to see how well people respond to duck and cover and evacuating with them. Others will be outside, evaluating whether people help others who might need it and whether evacuees remember to stay 150 feet from buildings until cleared by emergency personnel.
"The students will give us a report" of how well the exercise works, Whitfield said.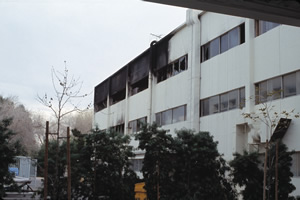 Cal State Fullerton could suffer fires — as seen in this photo from Cal State Northridge following the 1994 6.7 earthquake — as well as collapsed buildings, lack of power and a number of injured students, faculty and staff members.
A short tabletop exercise involving all emergency responders will be run after the drill. They will react to the scenario as if the campus had been severely damaged and there were actual casualties, Whitfield said. "We have been planning for this drill since last spring," he added, "but the Chino Hills 'quake emphasized the need to drill."
The Chino Hills earthquake was a 5.4 magnitude, but the simulated shaker — prefaced on a 180-mile-long rupture on the southern end of the San Andreas Fault — will be 7.8 to 8.0 magnitude, thousands of times more powerful. Such an earthquake would be at least 50 times more powerful than the 6.7 jolt that leveled so much of Northridge in 1994.
"This is a dress rehearsal for the Big One," said David Bowman, chair and professor of geological sciences and one of Orange County's organizers of the Shakeout.
"The Big One is going to happen. It is decades overdue now. And that is only one fault in the area that can be devastating. We need to treat this drill as if it is the real thing. We need to know how to react.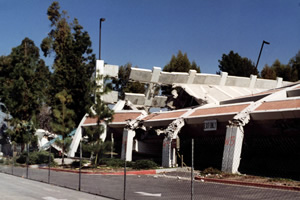 During the 1994 earthquake that struck Southern California, Cal State Northridge saw one of its parking structures collapse. Cal State Fullerton officials are taking part in the Southern California Shakeout Drill Nov. 13 as a means of preparing for the next big quake that could cause as much or more damage to the Orange County campus.
"Faculty, you are responsible for your students," Bowman recently told members of the Academic Senate. "Take charge. Get them to drop, cover and hold on. Then make sure they all evacuate.
"Also," Bowman added, "we should each prepare for ourselves, because all emergency and rescue crews will be swamped. We should have enough clean water, ready to eat foods, blankets, flashlights, first-aid supplies and radios in our cars for many days."
Don't think of the Big One as being done when the shaking stops, Bowman emphasized. "It isn't just food and water. Freeways and roadways will be cut for a long time. Try going from this campus to your home without once going under or over a freeway or a bridge. Can you?"
Information on earthquake preparedness has been periodically e-mailed this fall, Whitfield pointed out, and a seminar was held Oct. 25.
"Cal State Fullerton has gone all out for the Shakeout, far more than nearly any other campus we know about. We have scheduled a community Get Ready Rally Nov. 10 in the Quad with lots of educational and safety materials. We've done the seminars and e-mails. David (Bowman) is one of the organizers of the Shakeout and a strong advocate on campus. Students will monitor and report on the drill and we have the tabletop exercise. The administration is strongly behind this. We're serious."
Related stories:
Emergency Preparedness: After the (Northridge) Disaster
Why Disaster Planning? It's All About Preparation