Business Administration Major Honored With $10,000 Scholarship
Student Is One of 10 in Nation Honored by Commercial Real Estate Women
October 7, 2008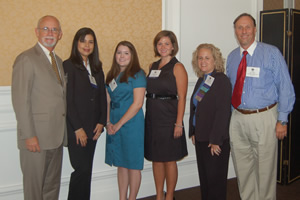 Business administration student Sarah Gall is congratulated on being a recipient of a $10,000 Commercial Real Estate Women – Orange County scholarship. Pictured with Sarah, from left, are Michael LaCour-Little, professor of finance at Cal State Fullerton; Miluska Fowler, co-chair, College Outreach,CREW-OC; Gall; Rian Graber, co-chair, College Outreach, CREW-OC; Karen Priesman, treasurer, CREW-OC; and Phil Bystry, lecturer in finance. The honorees were recognized during a Sept. 16 ceremony.
Cal State Fullerton business administration major Sarah Gall has joined a rare group of university students. She is one of the inaugural 10 recipients of $10,000 national scholarships awarded by the Commercial Real Estate Women Network.
The national organization established the $100,000 scholarship program earlier this year as a way of fostering careers for women in commercial real estate. Gall is the only recipient from Orange County.
The Tustin resident was honored Sept. 16 during an Orange County chapter luncheon.
The scholarship covers the cost of fees and other education expenses and includes an internship at a commercial real estate brokerage firm. Recipients also participate in the organization's eMentoring program.
"I was surprised and honored when I found out that I had been awarded the scholarship," said Gall, who learned about the opportunity when attending a "Principles of Real Estate" course taught by Phil Bystry, lecturer in finance. "His course was one of the most exciting I have taken and it really spurred my interest in the field of real estate. Now I look forward to taking more such courses before graduating next May and completing an internship."
"Sarah was one of the top students in the class," said Bystry. "The thing that stands out the most in my mind though is I alway came to class 15 minutes early for questions from students. Sarah was always there studying long before everyone else. This told me that she is very dedicated and gives it her all. This trait is rare these days.
"It was an honor to write her letter for this high honor," added Bystry. "It was a true privilege to serve her in the real estate principles class that she took."
Scholarship recipients were selected based on academic record, commitment to a career within the commercial real estate industry, extracurricular activities, employment history, personal and professional references, practical experience in the field, noteworthy accomplishments — related to studies and community service, and written statement about career goals.