Student Leader Gives Gift of Life
Q&A with Rosie Chuong
September 23, 2008
By Debra Cano Ramos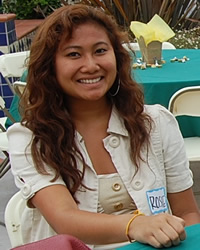 Sophomore Rosie Chuong is among student leaders involved in organizing the Volunteer & Service Center's campus blood drives. The next drive is Sept. 22-25 in the Titan Student Union.
Cal State Fullerton sophomore Rosie Chuong is among student leaders involved in a variety of service projects offered through the Volunteer & Service Center. This year, she has volunteered to be a student project leader for blood drives on campus. She is among students who are organizing the Sept. 22-25 blood drive, expected to be the largest held on campus to date. The four-day blood drive is scheduled from 9 a.m. to 3 p.m. in the Titan Student Union.
A communications major with an emphasis on entertainment studies, Chuong plans on creating a nontraditional record label after she graduates in 2011. Chuong, a Tustin resident, shares why she is a blood drive volunteer — and gives blood.
Q: Why are you involved with the blood drives?
A. I first got involved with blood drives in my freshman year of high school. After witnessing that the first one was successful, I anticipated becoming a blood donor myself. Though the thought of blood and needles made me nervous, my first donation in my senior year was a jump-start to the many that would follow. When I found out about the Volunteer & Service Center and the need for a student project director for blood drives, I did not hesitate to apply. I decided to work on blood drives because I was looking for a way to get involved on campus and in the community while doing something that I am passionate about. The opportunity was not one to miss.
Q. Why is it important for you to volunteer?
A. It is important for me to participate in volunteerism because it is an opportunity to become selfless and become concerned about others. Volunteering gives me a chance to step outside of my bubble and appreciate people who are different from me and need a helping hand.
Q. What would you tell your peers about the value of volunteering?
A. Volunteering is for everybody, regardless of who you are and what you like to do. When a person becomes a volunteer, a spark of compassion appears, and soon thereafter, it will spread like wildfire. I believe that compassion is necessary to become successful in life. I know of no career that does not help someone in some way. Compassion helps mold the burning desire for us to search for work that we would love to do. To lack compassion from our everyday lives is to forget the reason why we love our work and the people who make it useful and rewarding.
Q. How has volunteering on campus helped you with your college goals?
A. One of my goals for college is to create relationships with substance. I've been able to develop many of those kinds of relationships with the people who are heavily involved with the Volunteer & Service Center, especially my team members. For that, the Volunteer & Service Center has become my second home. I encourage every student to visit the center to find out more about how they can help shape the future of volunteering.
For more information about volunteer opportunities on campus, visit http://www.fullerton.edu/deanofstudents/studentlife/VSC.html.