The Accidental Opera Star
Rodney Gilfry's Latest Work Took the Opera World by Storm
Reprinted from the Spring 2003 Issue of Titan Magazine
By Gail Matsunaga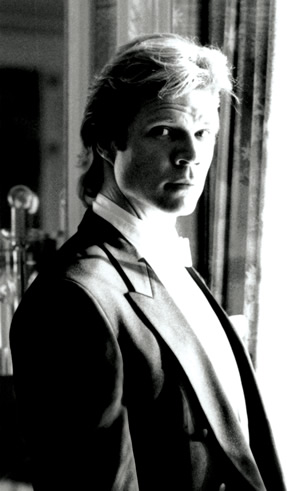 Rodney Gilfry
His arms wrapped around her in an eternal embrace, the two lovers lay motionless. At last, they have put their demons to rest.
The scene fades as the Narrator delivers his final aria lamenting the loss of Nathan and Sophie and all who perished in the Holocaust. The orchestra, under the baton of Sir Simon Rattle, fades to silence.
For a moment the audience is still. Then, like a giant wave hastening to shore, applause rushes to fill the Royal Opera House. From the orchestra section upward to all four chandelier-graced balconies that wrap around the theater, nary a soul departs. The cast—including international opera star Rodney Gilfry '81—who has created the role of Nathan in the eagerly anticipated Dec. 7 world premiere of Nicholas Maw's opera Sophie's Choice, makes curtain call after curtain call.
" … the central performances of Angelika Kirshschlager and Rodney Gilfry as doomed lovers Sophie and Nathan were … among the most committed and convincing ever seen at the Royal Opera House."—The Independent, London
Nathan joins Gilfry's steamy, dangerous Stanley in André Previn's A Streetcar Named Desire, which debuted at the San Francisco Opera in 1998, as signature characters he has created in new works— and Nathan is the latest role in a brilliant career for the talented baritone. Gilfry has appeared in major opera houses around the world, co-starring with some of opera's biggest luminaries, including Placido Domingo, Cecilia Bartoli, Marilyn Horne, Renée Fleming, Carol Vaness, Jennifer Larmore and Frederica von Stade.
But for the blond, broad-shouldered singer who many feel looks more like a surfer than a man suited to play Don Giovanni, an opera career was not his ambition growing up in Southern California.
A career in music, however, was Gilfry's destiny. His late father was a high-school, college, military band and orchestra conductor before becoming a high-school teacher, administrator and counselor. His mother, a former teacher who trained as a singer, introduced her children to singing.
Gilfry's parents owned a music store in Covina, but sold it to a friend. Unfortunately, the new owner couldn't always make his payments. "Once in a while, he would pay off what he owed my parents in the form of instruments," says Gilfry. "So we had a couple hundred instruments in our garage. My father would encourage us to go out [there] and take out any instrument we wanted, and he would show us how to play it. It was really fantastic."
From the time he was a youngster, Gilfry sang in choirs and musicals at church, where he met his future wife and fellow performer, Tina Estupinian '80, though they would not date until years later as students at Cal State Fullerton.
When the Gilfrys moved to Claremont in 1971, Rodney's father bought a new stereo system. "He would play symphonies and violin concertos at full tilt, and was really remarkable to watch because he would sit down with the conductor's score of a Tchaikovsky symphony and conduct—and he just wept. He was so taken by the music, there were tears streaming down his face. That was my introduction to how music can affect someone, and that really made a big impression on me."
If Tchaikovsky could move his father, Gilfry would find out in high school the power of his own instrument. In addition to singing in the choir, he was on the wrestling team. Once, when a choral festival and wrestling tournament were scheduled on the same Saturday, Gilfry opted for the festival and on the following Monday, found that his team lost their match by one weight class—his.
In an effort to shame Gilfry in front of his teammates for letting them down, the coach demanded that he sing something for them. "I didn't know what to sing, so I sang 'Mary Had a Little Lamb.' It was do or die …. I put my heart into it, and the team cheered for me. The coach was really embarrassed and made me do 100 push-ups.
"But I thought, 'Wow, this really affects people when I sing—I have a good voice.' And that's when I first got the idea that this was something powerful."
It was in high school, too, that he discovered how much he liked performing. Cast in the title role for the school's musical Li'l Abner, he relished the experience of being on stage in front of an audience. That performance also impressed his father, who prior to that moment "thought that vocal music was not as high an art form as instrumental music. He was always really supportive, but it wasn't until Li'l Abner that he was won over.
"At the end of the performance, I remember my dad coming backstage and saying, 'Son, you're not a ham, you're the whole hog!' He was grinning from ear to ear, and that was kind of an affirmation for me that this was something that was good to do."
"Nathan, [the] paranoid schizophrenic Jewish lover sung by American baritone Rodney Gilfry, steals the show with his presence and ability to generate laughs."—Sunday Times, London
Gilfry began his studies at Fullerton as a music education and physics double-major. He dropped physics, realizing that it required too much math. But Tina, now a fifth-grade teacher at Caryn Elementary School in Etiwanda, says he is "a scientist at heart. Just for fun, he would go to the library and research fuel cells and alternative energy sources."
Gordon Paine, professor of music, remembers Gilfry as a "young, gangly guy, who, when he opened his mouth, had this stunningly beautiful sound. But, as I learned very quickly, it wasn't just sound. This is a very sharp guy, and it became clear to me the first time I ever heard him sing a solo, he did musical and expressive things with it that were far beyond the level of technique and level of artistry of most of our students. And he seemed to be born with it."
Initially, Gilfry stubbornly stuck to his plan of becoming a music teacher. "I had these dreams of establishing a choral program like I had when I was growing up," he says.
But the state of California was reeling from the impact of Proposition 13, passed in 1978, slashing many arts programs to balance its budget and meet voter mandates. At the same time, substitute teachers were in demand in some Orange County highschools, so Gilfry obtained an emergency permit, and immediately began teaching. "I would teach maybe one period of choir and five periods of everything else."
What he hoped to accomplish in the classroom was so different from what he was doing that he ultimately gave up his dream and decided to pursue singing instead. Meanwhile, a last-minute request to fill in for an ailing singer in a production of Romeo and Juliet at the Music Academy of the West in Montecito, led him to renowned French baritone Martial Singher, who became Gilfry's vocal teacher for the next six years.
In addition, Gilfry accepted a scholarship in USC's master program for vocal performance. All the while, he kept singing, traveling to different cities to perform.
In 1985, he auditioned in Europe and signed a two-year contract with the Frankfurt Opera. With daughters Carin, age 2, and Erica, 3 months, he and his young wife relocated to Germany in 1987, leaving their close-knit families and friends behind in America.
"I said to Tina, 'We're just going to go for two years. I'm going to make a big splash, make all my contacts, and then it won't matter where we live. We can move back, and I'll have an international career.' It took seven years to do that."
His initial experience in Europe "was exciting, but frightening. The culture shock was tremendous, just being thrown into it like that with nobody to hold your hand." Overall, the two years in Frankfurt were "very disappointing." Just days before the company's season premiere, the recently rebuilt opera house burned down, so they performed in an adjacent black-box theater that accommodated 400 people—seemingly taking the "grand" out of opera.
It was during this period that Gilfry took on his first starring role—the title role in The Marriage of Figaro in Hamburg in 1986.
Switzerland was the next stop for the family—which now included son, Marc—when Gilfry signed with the Zurich Opera in 1990. "The weather was so much better, the people were much more international," he said. "We lived in a wonderful little neighborhood with wonderful neighbors. We have really fond memories of that time."
After seven years in Europe, it was time to return to the states. "[Tina and I] had talked about how we wanted our kids to grow up in California. We missed our families. I thought it was going to have to be a real sacrifice. As soon as those wheels left the runway it felt so right, and I was so at-peace with it. I've never looked back."
The character that many in the opera world associate with Gilfry is the title role in Benjamin Britten's Billy Budd. Although he wasn't the first to perform it, he has been strongly identified with it in opera circles. A Los Angeles Times review declared, " … Gilfry owns the role in bearing, manner and vocal force. At the [Los Angeles] opening, he showed nothing to contradict his superiority." The Times of London said of the Royal Opera production, "Rodney Gilfry has the physique du role for Budd but, more importantly, sings absolutely beautifully." And of the Dallas Opera performance, Opera News stated, "With his rolling baritone, innocent manner and blond good looks, Rodney Gilfry seems put on earth to portray Billy."
Billy, however, is a far cry from the mercurial Nathan. What convinced Sophie's Choice director, Sir Trevor Nunn, to cast Gilfry? "It's very simple," Nunn replied. "I needed someone who could play this major baritone role. I had seen a TV broadcast of Don Giovanni and was completely riveted by this particular singer who acted with such freedom and daring and physicality."
It's the Monday following Saturday's premiere of Sophie's Choice and Gilfry is recalling his feelings prior to the performance in an interview in a Royal Opera House meeting room. "I felt completely at peace; relatively calm, but excited at the same time. I had banished all doubt of anything not going well, and I was expecting to have a really wonderful experience.
"Then we actually did it (laughs). One of my challenges is that I struggle with a tendency to be a perfectionist," he continues. "Things were going beautifully. [Then] in the library scene, I picked Sophie up off the floor and I got on her left side, and this voice in my head—I heard Trevor saying, 'No, other side.' So I went back and suddenly, it made me just a little bit nervous. Things got better—then I do this scene where she wakes up and I cook for her. I got out of sequence, and my head started to swim a little bit and I lost my concentration.
"The problem with having these perfectionist desires is that you don't stay in the moment. You think about the mistake you just made, and you're thinking about what's coming up. At the end of the whole thing, I was kind of pissed off at myself. And then I was pissed off at myself for being pissed off at myself because, what's the point? Why beat myself up? It went really well, people loved it, and they liked me."
" … the great performances come from [Dale] Duesing and Gilfry, the latter fatally glamorous …. and melting our hearts as well as Sophie's with the Dickinson settings." —The Guardian

A visit with Gilfry at his home in Etiwanda provides a peek at what is most important to him. Each of his children surfaces at different times—depending on when they get home from school or drama rehearsal—and makes a point, with their dad providing introductions, of greeting their guest with a handshake, clearly comfortable with meeting new people.
During a photo shoot, it takes very little prompting for the family to "squeeze" into the frame on a bench in the backyard. Later, while the photographer reloads his camera near the pool, Marc stands close by, watching. Soon, Rodney steps behind his son and casually puts his arms around the young teen. Carin and Erica have now stepped up to either side of their dad and—partly because of the chill—each wraps her arms around his. Around the time Tina joins her family, the photographer looks up and decides this five-person group hug will be the next shot.
Like many parents, Gilfry sometimes brings his work home, which for an opera singer, has its own unique twist. "There's always the danger of being influenced by the role that you play," he explains. "I was doing Don Giovanni. Who is Don Juan? A pretty bad guy, [and] he has a tremendous sense of entitlement. I was at home, admittedly behaving a bit like Don Giovanni, and Erica turns to Tina and says, 'I like him better when he's Billy Budd.'"
Last year, the Cal State Fullerton community caught Gilfry at the 2002 Vision & Visionaries celebration as he was honored with other distinguished alumni. That fall he was invited to serve on a task force to help raise funds in support of the new Performing Arts Center. And in February, he hosted Front & Center, An Evening With Natalie Cole.
Coming up, Gilfry's schedule includes two months in Zurich for a production of Les Indes galantes. In June, he'll reunite with Previn and the London Symphony Orchestra in a concert performance of A Streetcar Named Desire, followed by a month in Munich for Il ritorno d'Ulisse. Los Angeles Opera audiences will have the chance to see Gilfry this fall in the premiere of Nicholas and Alexandra, in which he'll play Tsar Nicholas opposite Placido Domingo's Rasputin.
Looking ahead, Gilfry hopes to work on recordings, as well as explore possible film, stage and television opportunities. Over the last few years, he has crossed over into such genres as musical theater and cabaret. Hollywood Bowl audiences enjoyed his performance as Billy Bigelow in Carousel, as did Reprise! theatergoers when he played Joe in The Most Happy Fella at UCLA's Freud Playhouse.
Among the believers in Gilfry's quest to pursue other media forums is Nunn, who says, "Rodney is very inventive, spontaneous and a risk-taker. He could have a wonderful career as an actor if he couldn't sing."
These future plans, Gilfry says, are in keeping with his wish to remain closer to home and his family. "I'd like to stay home for two or three years and not go anywhere. I'd like to work on my car, clean up my garage, organize my studio. I've never had the experience of being with my family for a full year."
But in London on that memorable opening night in December, the audience was not having any of that as they stood, applauded and stomped their feet against the hardwood orchestra-level floor in appreciation of him and his fellow performers. Over the following two weeks, this accidental star did not let them down as the ill-fated Nathan, whose fate is sealed at the end of Act IV. In comparison, Gilfry's future looks as promising as ever.