Former Athlete Hired as Academic Counselor

Rodney Anderson Earned Master's Degree in May
July 16, 2008
From Sports Information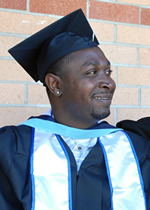 Rodney N. Anderson
Former Titan basketball guard Rodney Anderson has been appointed an athletics academic counselor at Cal State Fullerton.
Anderson earned his master's degree in counseling in May as he continues his comeback from a near-fatal street shooting in 2000. He had been serving for the past year as a graduate assistant mentor in athletic academic services. He earned his bachelor's degree in human services in 2005.
Though he is confined to a wheelchair and still struggles with thoughts of what could have been, he's grateful to be alive and able to help others.
"I want to work with kids who grew up in neighborhoods like mine, where gangs and crime seem inescapable," Anderson said. "My goal is to be an example."
Anderson played in 24 games as a freshman in the 1999-2000 season, averaging 3.4 points and 1.4 rebounds. He was shot three times in the back near his home in Los Angeles on Mar. 2, 2000, in a case of mistaken identity. He returned to classes for the spring 2001 semester.
Rodney and his family were the subjects of the ABC-TV program "Extreme Makeover: Home Edition" in December 2004 (telecast in January of 2005). As part of the show, his jersey number 4 was retired in a ceremony in Titan Gym and he was married to his longtime girlfriend, Monique.