Browning Dies After Battle with Cancer
Former Cal State Fullerton Career Center Director, Counselor Remembered for Leadership and Student Guidance
August 12, 2008
By Debra Cano Ramos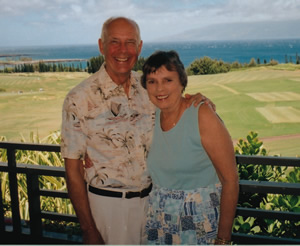 Roberta "Bobbe" F. Browning, Cal State Fullerton's emeritus director of career development and counseling, right, and her husband Lee Broadbent, CSUF senior counselor emeritus.
Roberta "Bobbe" F. Browning, Cal State Fullerton's emeritus director of career development and counseling, who for 27 years counseled students and was known on campus as a leader and mentor, died Aug. 7. She was 70.
Browning, who lived in Fullerton with husband Lee Broadbent, senior counselor emeritus at the university, was diagnosed about a year ago with lung cancer and in recent months was under hospice care at her home. She had suffered from pulmonary hypertension, a result of scleroderma, which she had for more than 40 years, Broadbent said. Scleroderma is a chronic connective tissue disease generally classified as one of the autoimmune rheumatic diseases, he explained.
Broadbent, who met Browning in 1975 when he joined the university as director of counseling, characterized his late wife as a natural leader who loved working with students.
"She had a tremendous fondness for students, and she was also good at delegating — of asking people to help," he said.
"Bobbe made a significant contribution to the Division of Student Affairs," said Robert L. Palmer, vice president for student affairs. "She was a strong mentor and role model for our junior staff."
One of her proudest accomplishments at Cal State Fullerton, Broadbent said, was co-founding the Women's Center in 1972.
"It was at the height of the women's movement and since, the center has been a vibrant and wonderful contribution to the campus," he said.
Browning, who earned her bachelor's degree in psychology from Bucknell University in Pennsylvania, was hired at CSUF in 1970 to work in the university's counseling and testing centers and went on to earn a master's degree in counseling from CSUF in 1974.
During her tenured career at the university, she held a number of positions, including counselor, assistant dean of students and, in 1980, director of career development and counseling, retiring from that post in 1997.
Listed in Who's Who in California in 1990, Browning was a longtime advocate and board member of the YWCA of North Orange County.
Diane Masseth Jones, executive director of the YWCA of North Orange County, noted that Browning was instrumental in making a difference in women's lives: "Bobbe was a very dedicated member of the community, and she inspired opportunities for women throughout Fullerton. She really supported us 100 percent."
In 1991, Browning was elected chairwoman of the California State University Directors of Career Centers, where she served as the liaison between the chancellor and other California State University campuses.
Browning was born in Swedesboro, N.J. , and grew up in nearby Pennsgrove, a small farming town, Broadbent said. She had a son, John, from a previous marriage, who died at age 16 in a car accident. She and Broadbent decided to turn the 1981 tragedy into a tribute to her son by giving scholarships to Cal State Fullerton computer science students. Broadbent explained that Browning's son loved computers and was so proficient that he tutored university students.
The pair, who married in 1977, set up a privately run scholarship fund in 1981, with the help of donations from family and friends. Together, they provided more than 160 scholarships and about $80,000 to aid scholarship students, he said. In 2006, the couple established a $63,000 endowment with the university in her son's name, in order to continue to provide scholarships to students. By memorializing her son, Browning in an interview with the university magazine, Titan, said: "The biggest reward is that you're helping students. Students today are very tight financially. We felt the scholarships would help a lot."
Browning also is survived by her brother, John Fullerton of Oceanside; two nieces and a nephew; and stepson, Kerim Broadbent of Fullerton.
Services will be at McAulay & Wallace Mortuary, 902 N. Harbor Blvd. in Fullerton. A viewing will be held from 5 to 8 p.m. Thursday, Aug. 14. A memorial service will be held at 11 a.m. on Friday, Aug. 15, followed by a graveside service at Loma Vista Memorial Park, 701 E. Bastanchury Road in Fullerton.
In lieu of flowers, Browning's family is requesting donations in her memory to the American Cancer Society (http://www.cancer.org) or St. Joseph's Hospice (http://www.sjo.org).