Robert Michaels Honored
Economics Professor First Named a Hann Distinguished Fellow
July 15, 2008
By Valerie Orleans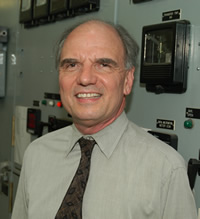 Robert Michaels
Robert Michaels, professor of economics at the Steven G. Mihaylo College of Business and Economics at Cal State Fullerton, has been named the Daniel P. Hann Distinguished Fellow in Economics and Regulation.
The $10,000 award, to be presented in the fall, honors a faculty member with a distinguished record of publication and service to the university. Michaels was selected for this honor because he has established himself as an expert on energy policy, testifying before such groups as the U.S. House of Representatives Subcommittee on Energy and Power, the Federal Regulatory Commission, and the California Public Utilities Commission on a variety of energy issues. His work has been published in such journals as Energy Law Journal, The Electricity Journal and many others. His work is also cited in numerous publications such as Investor's Business Daily, and he is a correspondent on energy issues for National Public Radio. He is a sought-after presenter at national and international conferences.
Hann is a CSUF alumnus who received a bachelor's degree in economics in 1977 and is the vice president of Biomet, a medical device manufacturer primarily focused on orthopedic implants. He oversees corporate development and strategic planning for the Indiana-based company.