Taking on New Leadership Role
News Veteran Named New Adviser for Daily Titan
August 25, 2008
By Pamela McLaren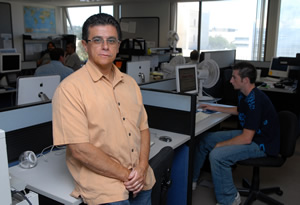 Ricardo Chavira in the Daily Titan editorial office. Photo by Kelly Lacefield.
He has traveled the world reporting the news, but this fall, Ricardo Chavira will be taking on a new role guiding students, as faculty adviser for the Daily Titan.
For nearly 30 years, Chavira has worked as a journalist, including 10 years in Mexico City and Washington, D.C., as a diplomatic correspondent for Time Magazine. Before that, he spent 11 years in a series of posts for the Dallas Morning News, including as Mexico City bureau chief, international editor, senior editor and assistant managing editor.
"I always planned — way back as an undergraduate at Long Beach State — to get into teaching," said Chavira. "That point came in 2003. I felt a need to try something else."
Chavira, who earned a degree in journalism from Long Beach and a master's degree in mass communications from Cal State Northridge, has taught upper- and lower-division journalism courses on campus since 2004 and also taught at UCI. Being faculty adviser to a student-run newspaper will be new for him. He succeeds Tom Clanin, who returns to the classroom.
"The biggest challenge is making sure students working on the student paper have a wonderful experience," he noted. "The key is to not micromanage … to ensure that the work environment is educational at the same time.
"I'm used to working collaboratively and hope to create a team esprit de corps," said Chavira, who was part of the 30-member editorial team that won the 1994 Pulitzer Prize for international reporting.
Because of his background, Chavira hopes that students will see him as a resource. During his tenure at the Dallas Morning News, the newspaper was moving onto the Web. He sees the drop off in readership for daily newspapers as a wakeup call that things must change — but not everything.
"I try to tell students that the Internet is not the end all, be all," said Chavira. "There's still —and always will be — the printed word."