From War to Peace
Soprano to Perform in Recital Sept. 5
August 19, 2008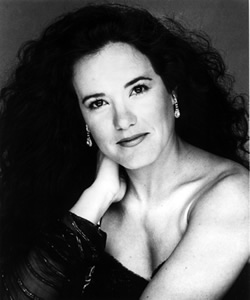 Patricia A. Prunty
Soprano Patricia A. Prunty, assistant professor of music on campus, performs in concert Friday, Sept. 5, with composer and pianist Richard Pearson Thomas in the Meng Concert Hall.
The duo will perform "From War to Peace: A Journey of Love," which features an eclectic mix of musical styles and languages revolving around the theme of war, its ravages on young and old and the hope found through love.
"This recital has a very special significance to me as a pacifist at heart," says Prunty, who received accolades for her performance of the work in New York and Paris. The artist noted that she has "seen the need to musically express how important it is for the world to seek peace and how destructive war is, especially to the innocent. This is my expression of that."
Prunty, who joined the full-time faculty in 2003, made her mark on both the operatic and concert stage. She debuted with the Los Angeles Music Center Opera in 1992 and has been honored with as a winner of the Center for Contemporary Opera's International Competition.
Prunty has continued to perform as a soloist with such groups as Pacific Chorale, Pacific Symphony and Trillium Ensemble, and in concert with the American Chamber Symphony of Los Angeles and at the Carmel Bach Festival.
Thomas has had works performed by the Boston Pops, Convent Garden Festival, Houston Grand Opera, Chautauqua Opera, Eugene O'Neil Theater Center, Banff Centre and Skylight Opera Theatre. His songs have been sung in Carnegie Hall, as well as the Lincoln and Kennedy centers.
A recipient of the American Composers' Forum Continental Harmony commission, Thomas created "Race for the Sky" as a commemoration of the events of 9/11. The work was performed by the Westchester Philharmonic Orchestra and in recitals nationwide.
Advance tickets for the recital are $20 ($15 with an advance Titan discount) and may be purchased from the Performing Arts Center box office from 11 a.m. to 4 p.m. weekdays and one hour prior to performance. They also may be purchased online at www.tickets.com. For more information, call 278-3371.