Student Leaders Attend Seminar
Take Part in Annual Panetta Institute Summer Program
July 15, 2008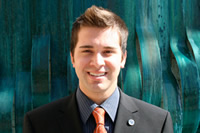 ASI President Curtis Schlaufman
Two Cal State Fullerton student leaders recently completed the Panetta Institute's Ninth Annual Student Leadership Seminar.
Associated Students Inc. president and political science major Curtis Schlaufman and executive vice president Maryam Marzara, a communications major, were among the 30 student body presidents and other leaders from the California State University system, as well as the Dominican and Santa Clara universities in attendance.
"It was an honor to be able to attend the Panetta Institute for a second time," said Schlaufman, who attended last year when he was ASI executive vice president and chief governmental officer.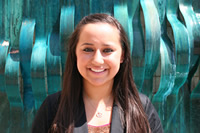 ASI Vice President Maryam Marzara
"The Panetta's are great people and truly inspiring, I wish they were involved in my life on a daily basis, but the lessons I learned from them will last a lifetime," added Schlaufman, who has been involved in Associate Students Inc. since his freshman year.
The ASI president previously was co-founder of the ASI Environmental Advocacy Committee and was involved in ASI governmental relations. Schlaufman also served as lobby corps officer for the California State Student Association. He hopes to enter law or graduate school with a future career in politics or student affairs.
"No words could describe the Panetta Leadership Institute. It is a week filled with inspiration, dedication, responsibility and passion," said Marzara, who has served on such student leadership committees as University Affairs and Academic Appeals. A n alumna of Gamma Phi Beta, Marzara served as Panhellenic Council president and named "Greek Woman of the Year" in 2007.
"The peers that I got to interact with made me realize how fortunate I am to be a representative of the CSU community. Mr. & Mrs. Panetta's dedication to the local, state and national community has inspired and touched many people, but the most distinctive role they have played is inspiring students to go above and beyond their roles as leaders," added Marzara. "The experience that I got to have at the Panetta Institute will be something that I will always cherish, and something that I will always remember in any leadership role that I may obtain in the future."
Objectives for the annual eight-day seminar are to teach attendees about leadership principles, strategies and practices; to send them back to their campuses and communities as more effective leaders; and to encourage them to pursue lives of public service.
This year's program included talks by state and regional government officials; civic, education and military leaders; and representatives of the business community and the media.