Foster to Take Reins of Women's Basketball
Jeremiah to Relinquish Head Coaching Duties at End of Season
November 4, 2008
From Sports Information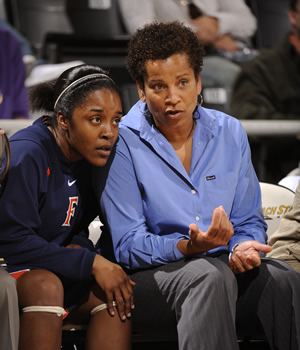 Marcia Foster. Photo by Matt Brown.
Current Associate Head Coach Marcia Foster will take over the Cal State Fullerton women's basketball program when Maryalyce Jeremiah relinquishes her head coaching duties at the end of this season.
Foster, who today signed a four-year contract effective July 1, 2009, is beginning her sixth year as a Titans' assistant, her third as associate head coach. Foster spent one year as head coach at Cal Tech and the previous six years as an assistant at Cal Poly San Luis Obispo.
Jeremiah is about to begin her 13th season as head coach at Fullerton and the 29th of her distinguished career. The recent inductee into the Ohio Basketball Hall of Fame took an 11-year hiatus (1992-93 through 2002-03) from coaching to serve as the Titans' senior woman administrator.In her five seasons back, Jeremiah has gotten the Titans competitive again in the Big West with a best season of 16-16 (7-7) in 2006-07.
"Marcia has played an integral role in the rebuilding of our women's basketball program," said Brian Quinn, director of athletics. "She has played a large part in recruiting high quality student-athletes. She will assume some of the head coaching duties immediately and it will be a seamless transition."
"I'd like to thank President (Milton) Gordon, Dr. (Bob) Palmer and Brian Quinn for the opportunity to become the next head coach at Cal State Fullerton," said Foster. "It's always a great day to be a Titan, but I'm especially proud of this one.
"Dr. Jeremiah has been and will continue to be an outstanding mentor for me. I look forward to building upon the foundation of athletic and academic excellence that Coach Jeremiah has laid for the program. We have work to do and all of my focus and energies are geared toward making this team the absolute best it can be."
DR. JEREMIAH'S CSF COACHING RECORD
1985-86 Cal State Fullerton 11-18 .379
1986-87 Cal State Fullerton 12-16 .429
1987-88 Cal State Fullerton 18-11 .621
1988-89 Cal State Fullerton 21-9 .700
1989-90 Cal State Fullerton 14-14 .500
1990-91 Cal State Fullerton 25-8 .758
1991-92 Cal State Fullerton 11-17 .393
1985-92 Cal State Fullerton 112-93 .546
2003-04 Cal State Fullerton 9-20 .310
2004-05 Cal State Fullerton 8-20 .286
2005-06 Cal State Fullerton 11-17 .393
2006-07 Cal State Fullerton 16-16 .500
2007-08 Cal State Fullerton 11-19 .367
2003-pres. Cal State Fullerton 55-92 .374
CSF TOTAL 167-185 .474P
"The years at Cal State Fullerton have been so rewarding for me," said Jeremiah. "The program in the past six years has grown into a solid foundation and to leave it in Coach Foster's hands is as good as it gets.
"In this final year for me, I hope the athletes will get the chance to play at the highest level of their potential. The future for me and for the program is very bright and exciting."
Foster is a native of Plainfield, N.J., and graduated from Seton Hall in 1984. As a player, Foster was a four-year starter for Seton Hall and was ranked the No. 4 freshman in the country following her rookie season.
She began her coaching career at the high school level in Orange County, guiding the junior varsity at Mater Dei in Santa Ana to a league championship and winning another league title in four seasons as head coach at Garden Grove High. She also coached the Orange County Optimist AAU team to an 18-and-under Southern California championship in 1994. Her college career began with one season as an assistant at Arizona State.
Foster was one of 11 collegiate female assistant coaches to be invited to participate in the 2006 Black Coaches Association's "Achieving Coaches Excellence" program for minority women in Indianapolis, Ind.
Jeremiah led the Titans into the NCAA Tournament twice during her first tenure that ran seven seasons from 1985-86 through 1991-92. Her record in that era was 112-93, including 70-52 in conference play. Her 28-year overall record is 430-330. At Fullerton she has coached 10 players to 17 All-Big West Conference awards, eight all-freshman team selections, four Big West Freshmen of the Year honors, a Big West Player of the Year and one Kodak All-American (Eugenia Miller-Rycraw in 1991).
A national figure, Jeremiah served four years on the NCAA Div. I Women's Basketball Committee and was it's chair for the 2000-01 and 2001-02 seasons. She received the Carol Eckman Award in 1990 from the national coaches association for best representing sportsmanship and ethics in the coaching profession.
The graduate of Cedarville University in Ohio earned her master's degree and doctorate in physical education from Ohio State University.