Learning the Ropes
Record Number of Incoming Freshmen Attend Summer Orientation
July 22, 2008
By Debra Cano Ramos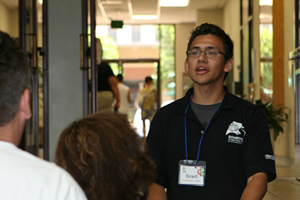 New Student Orientation leader and junior Grant Deering leads a tour for new CSUF parents at Parent Orientation. Photo by Edward B. Salas
A record number of incoming freshmen participated in this summer's New Student Orientation program to learn about what Cal State Fullerton has to offer, receive information about academic requirements and expectations and register for fall courses.
More than 5,200 first-time freshmen (700 more than last year) signed up to attend New Student Orientation, said Larry Martin, acting associate dean of students who manages New Student Programs. As of July 10, 4,531 had attended the June series of programs, which is mandatory for all first-time freshmen admitted to the university. One last session is set for July 29.
"Transitioning to college can be exciting, but also overwhelming," Martin said. "By attending orientation, students can get the help they need to begin their academic journey.
The orientation program provides information about the different colleges and majors, general education and major requirements, academic and peer advisement and course registration.
"We've found that students who attend the orientation are not only likely to be more successful in adjusting to college life, but they also have a smoother transition from high school to college," said Kandy Mink Salas, dean of students. "The orientation gives students a jump-start with their college experience."
In addition to student orientation, more than 3,600 parents signed up to attend parent orientation sessions. Parent orientation included a tour of the campus and information on academic requirements, university fees, student health and campus safety. A resource fair for parents featured information about financial aid, student services, housing on campus and studying abroad.
New freshmen are invited to attend Student Life Orientation, which will be held Aug. 4-8 and features various interactive workshops, a resource fair and campus tour. During this optional program, new students learn about co-curricular activities, such as getting involved in campus clubs and activities, and student services, including information about the Student Health and Counseling and Career centers, as well as parking and transportation assistance.
"During this program, students will get the inside scoop on how to be involved, be informed and be successful at Cal State Fullerton," Martin said.
Incoming community college transfer students also were required to attend an orientation in June or complete an online orientation before registering for their second semester courses.
For more information about student orientation, visit www.fullerton.edu/explore/freshmen/nso.htm; or call New Student Programs at 657-278-2501.