Student Heads to Capitol Hill
Political Science Major Represents Campus in Panetta Institute Congressional Internship Program
August 12, 2008
By Valerie Orleans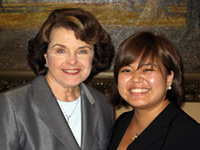 Nabila Bolisay, right, recently completed an internship with Sen. Dianne Feinstein (D-Calif.) and has been selected to return to Capitol Hill in the fall as Cal State Fullertonís student representative in the Leon and Sylvia Panetta Institute for Public Policy Internship Program.
Cal State Fullerton political science major Nabila Bolisay, of Anaheim, is spending more time in Washington, D.C. than she is on campus. She spent the summer working as an intern in Sen. Dianne Feinstein's (D-Calif.) office, focusing on defense and foreign relations issues through the CSUF-DC Summer Internship Program.
After a brief break this month, she'll turn right around and spend the fall semester back on Capitol Hill as Cal State Fullerton's student representative in the Leon and Sylvia Panetta Institute for Public Policy Internship Program.
As a Panetta fellow, Bolisay will spend two weeks at Cal State Monterey Bay — the Panetta Institute is based there — where she will learn more about public policy, what her responsibilities as a congressional intern will include, what she can expect from her internship and what lectures and programs she will be required to attend while serving her internship. Her fellow interns include one from each of the other 22 CSU campuses, as well as from Santa Clara University and Dominican University of California.
The internship is geared toward providing an opportunity for university students to get an inside look at the workings of Congress and Washington politics.
"Direct exposure to our democracy is the best chance at inspiring young people to become active participants in our government," Sylvia Panetta noted. "At a time when our nation faces so many challenges, it is vital that we prepare the next generation for responsible leadership."
The Panetta Institute hosts student interns selected by the president of each participating university. The students live in the Washington, D.C., area and the institute covers most of their costs, including travel and housing. Interns also receive monthly stipends to help cover other expenses.
"I've been fascinated by how the legislative and legal process works since my senior year of high school," Bolisay said. "We had an assignment of going through the process of getting legislation passed — with committee hearings, filibusters, negotiations, you name it. I was 17 and I couldn't wait until I turned 18 and I could vote."
Bolisay decided to apply for the prestigious fellowship at the urging of two of her professors and because previous Panetta Fellows highly recommended the program.
"I'm really looking forward to seeing politics from another position in the government," she said. "The work is going to be noticeably different given that House members work with smaller constituencies but have to garner support from more members in order to get legislation passed. I also am excited to watch this election season pass in DC — I can't wait to watch things heat up."
Bolisay said she wants to get involved in politics to "take the apathy out of our system."
"I want people to care about what is going on in their government and around the world," she said. "I also love D.C. — there's so much happening and so many places to visit beyond the monuments and capitol: the National Archives, the National Gallery of Art, the National Portrait Gallery, the International Spy Museum … and there's always something going on — concerts, programs, lectures."
Upon graduation, Bolisay is learning toward a career in teaching.
"I think it's important to convey information in a way that is comprehensible to others," she said. "The effectiveness of our political system starts right there by having an informed citizenry. I'd like to help others recognize the importance of our political system and become active and engaged citizens."