Working for a Cause
Economist Assists United Nations on Sustainable Development Efforts
September 23, 2008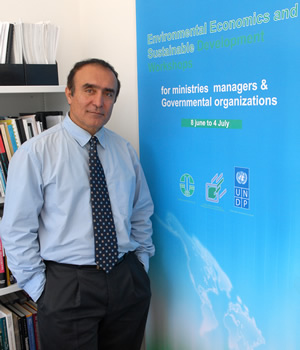 Morteza Rahmatian
Morteza Rahmatian, an expert in resource and environmental economics, is helping world leaders develop their countries without damaging the Earth.
This summer, working for the United Nations, the professor of economics traveled to Tehran. Rahmatian spent all of June giving environmental economics and sustainable development workshops organized by the UN's Bureau of Sustainable Development's recently formed Department of Environment.
The series of workshops, given to representatives of Iran's ministries and other agencies, such as banks and environmental conservation organizations, are a way of increasing awareness and sensitizing experts and managers on the importance of environmental economics and sustainable development in the country, said Rahmatian.
"Each meeting involved the ministers from such agencies as economic affairs and finance, industries and mines, agricultural and energy, as well as the directors from every state/province and their assistants," the economist explained. "It was a really big project and each session was well publicized and attended."
Prior to the mission, Rahmatian spent two months in preparation. Discussions included the offering of incentives, environmental degradation valuation of pollution and poor agricultural practices, impacts of CO2 emissions by fossil fuels, green accounts and valuation of biodiversity, waste recycling and water resources.
"Our aim," said Rahmatian, "is to familiarize decision-makers and executives from selected public sectors and ministries with the concept and terminologies of environmental economics and sustainable development; as well as provide an instrument for executives and others to better integrate the environment into economic development decisions; to enhance interactions and collaborations between the Department of Environment and relevant ministries; and to strengthen cross-sectional approaches to sustainable development through the application of economics."
Most important of all, he noted, is the need to maintain open communication between Iran and the United Nations.
"We need to maintain an ongoing exchange and to keep the countries' leaders up-to-date on how they go about business growth in a way that doesn't damage the environment," he added.
Related story:
Professor Travels World to Discuss Benefits of Resource Management, Pollution Controls
http://campusapps.fullerton.edu/news/2006/rahmatian.html