International Students Meet With U.S. Ambassador to Vietnam
Discussion Ranges From Scholarships and Visas to Trade
October 28, 2008
By Paula Selleck
United States Ambassador to Vietnam Michael W. Michalak was welcomed to campus with enthusiasm Oct. 11 when he made a special stop at Cal State Fullerton to meet with Vietnamese students studying here.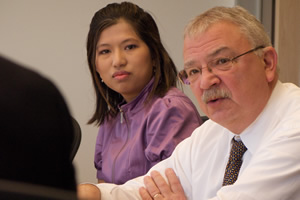 Michael Michalak, U.S. ambassador to Vietnam, made a recent Saturday morning visit to campus to meet with students from Vietnam, including Yen Nguyen, an international business major. Photo by Stephen Weissbart
His Saturday morning visit drew a group of 20 international students and alumni to Mihaylo Hall, where they sat around a conference table discussing their experiences as students and asking questions about visas, scholarships and career prospects back home.
As part of introducing the ambassador, Harry Norman, dean of university extended education, noted that since Michalak's appointment as ambassador in August 2007, "opportunities for students to study in the U.S. have increased greatly."
At Cal State Fullerton, 130 Vietnamese students currently are enrolled, up from 30 the previous year.
"One of the things I enjoy most about my job is getting out to universities and meeting students," said Michalak, who posed with students for snapshots before and after their meeting in the Scott O'Brien Innovation Room of Steven G. Mihaylo Hall.
A career service officer, Michalak previously served as the U.S. senior official to Asia-Pacific Economic Corp., Bureau of East Asia Pacific Affairs. In his more than 30 years of service with the State Department, he has worked in Japan, Australia, Pakistan and China, as well as Washington, D.C., where he was assigned to the Bureau of East Asian and Pacific Affairs, the Office for Japan and the Office of Chinese and Mongolian Affairs.
When Thao Le, a business administration major pursuing a concentration in accounting, inquired about the status of relations between the U.S. and Vietnam, Michalak thanked her for the question and talked about the growing opportunities for business between the two countries. He also said that "people-to-people relationships are very good."
He told the group, which included those studying international business, finance, computer science and communications, that the "U.S. is the biggest export market for Vietnam" primarily in food, textiles and furniture. "You can find a market for almost anything."
When asked about his typical day, Michalak laughed and said there is no such thing: "It starts with a meeting and gradually gets out of control." He relayed that his days involve efforts to improve human rights, economic work and commercial work.
Recalling his confirmation process to become ambassador, Michalak said he told Sen. Barbara Boxer (D-CA) that "one of my targets is to double the number of students coming to Vietnam."
He told the students they are ambassadors for the United States and for Cal State Fullerton. "You'll find when you get back home that your friends will be dying to hear what it was like."
Joining the students in greeting Michalak were Anil Puri, dean of the Mihaylo College of Business and Economics; Lisa Xue, director of international programs-Asia in University Extended Education; and alumnus Tam Nguyen, vice president of the CSUF Alumni Association and founding president of the Vietnamese American MBA alumni chapter.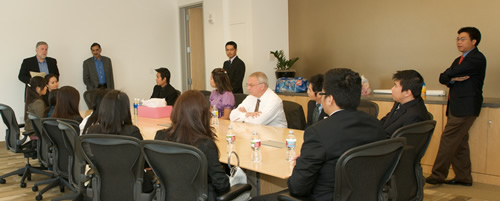 Harry Norman, dean of University Extended Education, and Anil Puri, dean of the Mihaylo College of Business, welcome students, alumni and Michael Michalak, U.S. ambassador to Vietnam.Photo by Stephen Weissbart