Men's Basketball Starts In Canada This Fall
Titans Play Whirlwind Exhibition Basketball Series in British Columbia
August 26, 2008
From Sports Information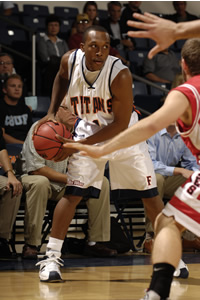 2008 Big West Conference Tournament MVP Josh Akognon is one of only tworeturning players for the Titans' men's basketball team in 2008-09. The team plays exhibition games at Trinity Western University in British Columbia this weekend before kicking off their regular season Nov. 6. Photo by Matt Brown
Continuing to re-write Cal State Fullerton men's basketball history, sixth-year Head Coach Bob Burton will take the Titans to British Columbia this weekend for the first international tour in the program's Div. I history.
The Titans will play exhibition games at Trinity Western University in Langley on Friday (Aug. 29) night, at Simon Fraser University in Burnaby on Saturday night and at the University of British Columbia in Vancouver on Sunday evening before returning to Fullerton. It's a whirlwind trip with the Trinity Western game scheduled for 9:15 p.m. and the Titans don't land at Vancouver International Airport until about 7:30 p.m. The other two games tip off at 7 p.m.
Fullerton began specially allotted practices on Saturday, Aug. 23, to prepare for the trip. The additional sessions are viewed as highly beneficial for a team that must replace seven graduated players.
Only eight or nine players will see action on this trip. Returning starter Josh Akognon and reserve Marcio Lassiter will be joined by redshirts Gerard Anderson and Adam Thomas and newcomers Jacques Streeter, Aaron Thompson, Ray Miller and late newcomer Ameer Shamsud-din, a highly regarded freshman guard from Oregon who enrolled on Monday. Forward Papa Guisse's status is uncertain, awaiting a decision from the NCAA Clearinghouse. Chris Rhymes will make the trip but will not play as he continues to rehabilitate a knee injured in last season's community college playoffs.
Fullerton is coming off its first conference (co-)championship since 1976, its first NCAA Tournament berth since 1978 and a school's best 24-9 record. But the Titans return only two veterans in leading scorer (20.2 ppg) Akognon and Lassiter (3.3 ppg).
Trinity Western is located about 30 miles southeast of downtown Vancouver. The campus has about 2,500 students. The Spartans play in Enarson Gym and are coming off a 4-19 season for Coach Scott Allen. They play Tulsa and Colorado State later in the weekend.
Simon Fraser and Fullerton have played before. The Clan handed the Titans a regular season-opening 80-77 loss on Nov. 19, 1999. It was Fullerton's only previous basketball competition outside the United States. The Titans won the rematch, an exhibition on Nov. 8, 2000, 60-43, in Titan Gym. Burnaby is located about 20 miles east of downtown Vancouver and has about 19,000 students. Coach Scott Clark is in his 14th season and is coming off a 13-22 season. They also play Colorado State on Sunday night.
The University of British Columbia is located west of downtown Vancouver and boasts 35,000 students. The Thunderbirds are coached by Kevin Hanson and already have a victory over a U.S. team, having defeated Div. II San Francisco State, 77-62, Saturday, Aug. 23. They return every player from last season's 27-9 squad and they host Tulsa this Saturday.
Fullerton's regular season begins Nov. 6 against Carroll College of Montana.