Former NCAA Champion Joins Titans' Wrestling Staff
September 17, 2008
From Sports Information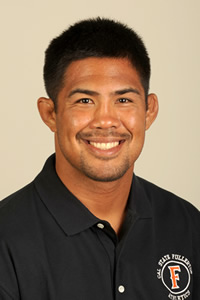 Mark Munoz
Two-time All-American and 2001 NCAA champion Mark Munoz has joined the Titan wrestling program as an assistant coach for the intercollegiate team and co-head coach of the Titan Wrestling Club.
Munoz captured two Big 12 titles at Oklahoma State at 197 pounds in 2000 and 2001. He also earned NWCA all-academic squad honors for four seasons.
"Mark is the type of person I have hoped we could attract to our staff," said seventh-year Head Coach Dan Hicks, a two-time NCAA champion himself. "He is a man of integrity and really cares about his athletes. He also is a very talented coach and recruiter.
"I have known Mark for several years and look forward to having him on board as we continue building the Titan Wrestling Program. After a season where we won the Pac-10 dual title and scored the most points of any Fullerton team at the Pac-10 championships, we are ready to continue towards our ultimate goal of being a top 10 team nationally.
"Mark knows what that is like having been at Oklahoma State," said Hicks. "He will bring a presence, a confidence, a champion to our room to help us build All-Americans."
Munoz was on the staff at UC Davis for five seasons. He also coached for two years at Oklahoma State, helping the Cowboys to their 31st NCAA team championship in 2003. He continues to train and now competes in ultimate fighting.