Chemist to Help Lead CSUF's Science College
Oil Company Veteran Named Natural Sciences and Mathematics' Associate Dean
September 30, 2008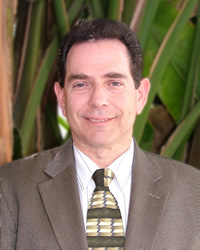 Mark Filowitz
A chemistry educator and experienced administrator in both private industry and Cal State Fullerton's College of Natural Sciences and Mathematics has been appointed associate dean of the college.
Mark Filowitz was appointed to the position on the recommendation of a seven-member search committee led by Brady Rhodes, professor of geological sciences. The appointment was effective Aug. 15.
In his new role, Filowitz is responsible for serving on the college's council of chairs and directors, assisting in supervision and evaluation of staff, helping with the recruitment, development and retention of faculty and staff members and taking part in review and approval processes for all curricular elements, including majors, minors, options and concentrations. He also will monitor class scheduling, enrollment and facilities, assist the dean with program performance reviews, review student petitions and help with fund raising.
Filowitz, the college's first Outstanding Lecturer Award winner, has served since 2004 as vice-chair of the Chemistry and Biochemistry Department, undergraduate adviser and co-director of the Research Experiences for Undergraduates program, which is funded by the National Science Foundation.
Prior to joining the campus in 2000, Filowitz served seven years as president and chief executive officer of Azusa-based Wynn Oil, responsible for 14 operating units serving 110 countries. He managed more than 500 employees. Prior to his tenure at Wynn Oil, Filowitz was senior staff chemist for Exxon Research and Engineering Company, holding that post in Linden, New Jersey, and in Abingdon, United Kingdom.
"Mark is a very capable scientist and administrator who brings extensive experience in the private sector, as well as in academia, to his new position," Murray said.
"He is an excellent teacher and is widely respected by the faculty and staff of the college," Murray added. "He will continue the student-centered approach championed by David Fromson, his predecessor. All of us in the dean's office are pleased with Mark's appointment as associate dean. We look forward to working with him to advance the interests of the college."
Fromson was associate dean from 1997 until his retirement in June.
"I am pleased to have been selected for this position," said Filowitz. "I bring with me two goals: One is to follow in the very capable footsteps of my predecessor and the other is to focus efforts on the dean's vision of increasing industry participation in our research and teaching missions."
The Fullerton resident holds a bachelor's degree in chemistry from New York University and, from Columbia University, a master of arts, a master of philosophy and a doctorate in chemistry. He has published eight peer-reviewed papers and holds three U.S. patents.