Giving The Gift of Life
Staff Member Donates Bone Marrow, Saves 19-Year-Old
September 30, 2008
By Mimi Ko Cruz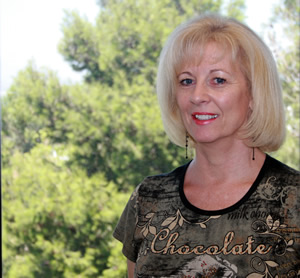 Mariann Thompson donated bone marrow and saved the life of a 19-year-old man. Photo by Mimi Ko Cruz
While a 19-year-old man suffered with Leukemia, desperately seeking a bone marrow donation, Mariann Thompson received the phone call she had been waiting for years to get. Her bone marrow was a perfect match. Would she donate to save the man's life?
A blood donor for two decades and on the National Bone Marrow Donor list for four years, the request was simple to answer: A resounding "yes!"
So, on June 2, Thompson, budget manager for the College of Health and Human Development, made her donation at St. Joseph Hospital in Orange. On Sept. 10, she received another call, informing her that the procedure worked.
"My stem cells engrafted, were accepted by the patient, and everything went better than expected," Thompson said. "The cancer is gone and he was sent home from the hospital.
"His parents, family and friends must have well and truly celebrated. I am so happy and relieved for him that I've cried quite a lot. My own daughters — Monique, 26, and Steffi, 24 — are close to his age. So, as a parent, my heart went out to the parents who had to watch their son go through cancer."
Thompson, of Anaheim Hills, joined the university eight years ago. The 57-year-old gives blood regularly and registered to be a bone marrow donor "because it is such a simple way to help someone in need."
She said she hopes her story will inspire others to get on the national registry and to donate blood. She shares a few thoughts here.
Q: What does it feel like to have saved a life?
A: I prefer to think of it as I helped someone who had cancer. I am really happy for him and his family and friends. When I received the phone call that his body had accepted my peripheral blood stem cells and he had been sent home from the hospital, I became very emotional. I still cry with happiness when I think about his new life.
Q: What do your daughters think about your good deed?
A: They are both very proud of me. After the donation at St. Joseph Hospital, they were waiting for me at my house to welcome me home, so that was rather a nice surprise.
Q: Why should people donate blood and bone marrow?
A: The preparation and the actual procedure are very simple, with minimal discomfort to the donor. The rewards to the cancer patient and also to the donor are indescribable.
The donor has blood tests and a physical examination. If everything is acceptable, a nurse gives the donor a series of five injections (one per day for five days) of Filgrastim to increase the number of peripheral blood stem cells in the bloodstream. There is a very slight lower back pain afterward.
Meanwhile, the recipient has to undergo chemotherapy and/or radiation to destroy their diseased marrow in readiness for the stem cell donation. If the patient does not receive the new stem cells at that point, the patient dies. That 19-year-old man had to make a decision based on the expectation that a complete stranger would continue with the donation. I can't imagine what he and his parents went through.
After the courier rushes to the patient's hospital, the donor's healthy blood cells are given directly into the patient's bloodstream where they can begin to function and multiply. There are many cancer patients waiting and praying to be matched with a donor. I'm sure time runs out for many.
Making a marrow or peripheral blood stem cell donation is truly a wonderful way to help someone with cancer. I was very happy to do this, and will donate again whenever the NMDP finds me to be a match again. The slogan of the NMDP is "Life. It's in you." I hope everyone will think very carefully about the meaning of those words, and become a donor soon.
For more information about becoming a bone marrow donor, visit www.marrow.org.
To make a blood donation, visit www.givelife.org or call the American Red Cross at 800-448-3543.