Transforming Lives
Making a Difference for 'The Lowest Caste' in Nepal
November 18, 2008
By Mimi Ko Cruz
If not for the efforts of Jeffrey A. Kottler, professor of counseling, scores of girls in Nepal would have been sold into sex slavery instead of going to school and prospering.
Ali Solis, left, a Cal State Fullerton graduate, holds a baby during her visit to Nepal last year when she was a student. Photo by Jeffrey A. Kottler
"These girls are considered the lowest caste, the most unworthy and insignificant in their culture," Kottler said. "That's why I'm helping them."
Through his nonprofit organization, the Madhav Ghimire Foundation, Kottler is sponsoring 80 girls in six villages throughout the Chitwan, Tanhu and Lamjung disctricts, as well as the Kathmandu Valley — covering the jungle along the Southern border with India to the remote villages of the Himalaya. He started with two girls in one village seven years ago. Those two, now 18 and 19, are heading to college, and will be the first that the foundation will support with scholarships to a women's university in Bangladesh.
Kottler visits the villages each winter to check on his charges. He travels with students, colleagues and friends who all raise funds to help sponsor the girls. This year, three groups, including five Cal State Fullerton students, five San Diego State students, an Australian, a physical therapist, business people, teachers and other volunteers will go to Nepal. Each is assigned to two villages, where they will assist the local teachers in instructing the students. The groups have raised about $30,000 — including a $10,000 donation from one of Kottler's publishers, Sage Publishing — so far.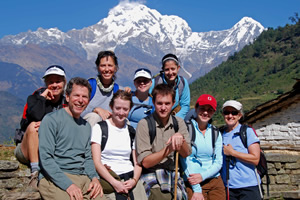 Pictured here are a Cal State Fullerton group who traveled to Nepal in 2007. Back row, from left: Barbara Sayad, Mary Andres, Christine Tomasello and Angie Pedrosa. Front row, from left: Jeffrey A. Kottler, Ali Solis, Scott Manwell, Sarah Sayad and Kathy Koser.
"We have hundreds of small donors but no main sponsor who wants to take this on as a project," Kottler said, adding that all donations pay for the girls' scholarships. "We still have no office, no paid staff and minimal overhead. What we're hoping for is one sponsor who would like to take this on as an opportunity to make a difference and to go to Nepal and see the impact."
The charity, he said, "started out as an impulsive gesture to help one person, but we keep doubling in size."
"We desperately need to raise more money for scholarships to save more girls' lives," Kottler added. "One thing I've learned is that people get involved for a very short period of time, then move on to other things. Meanwhile, the girls are waiting for help. It just tears me up that I can't do more."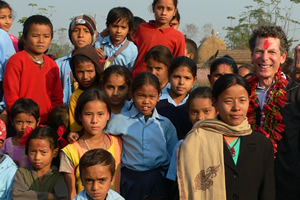 Jeffrey A. Kottler, right, with children in the village of Bandipur.
During his last trip to Nepal, Kottler filmed a documentary and wrote a book about his charity and others. Titled "Changing People's Lives While Transforming Your Own," the film and book will be released in January by Wiley Publishing.
For "Changing People's Lives," Kottler interviewed a dozen grassroots organizers who started their own social justice projects. Among the interviewed are a college graduate from Orange County who started "Road Trip Nation" (on PBS and MTV); the founder of "Born Into Brothels," who won an Academy Award; and the 9-year-old boy who raised $500,000 to build orphanages in Africa.
"The idea behind the book and the DVD is to show university students how easy it is to take one step to try to change the world and to inspire them to get involved in service activities," Kottler said.
To make a contribution to Kottler's charity, visit www.ghimirefoundation.org or send an email to jkottler@fullerton.edu.
RELATED STORIES:
http://campusapps.fullerton.edu/news/inside/2008/kottler.html
http://campusapps.fullerton.edu/news/inside/2007/Community_Benefit/Charity/nepal.html