Kathy Koser Promotion
Introducing New Associate Dean for the College of Health and Human Development
September 8, 2008
By Mimi Ko Cruz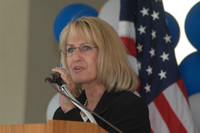 Kathy Koser
Kathy Koser has been appointed associate dean of the College of Health and Human Development. She replaces Ellen Junn, who now is Fresno State's associate provost.
Koser, of Huntington Beach, joined the university as an associate professor of health science in 1987. She served as chair of Kinesiology and Health Science from 2002-2005 and chair of kinesiology from 2005-2007. She also has served on various university advisory committees. She received her doctor of public health degree from UCLA in 1976.
Koser developed performance-based interviewing training materials that were used at more than 600 medical facilities for the U.S. Department of Veterans Affairs. For her work, she received the Department of Veterans Affairs Performance Award in 2000, 2001 and 2002.
In an effort to get to know a little more about Koser, here are a few questions and answers:
Q: What are your duties as associate dean?
A: I represent the dean in her absence and work with her in developing the vision and goals for the college. Other specific areas of responsibility include, among other things, enrollment management, curriculum oversight, staff evaluation, student petition oversight, contracts and grants processing, writing performance reviews and reports, coordinating college award and recognition programs, and involvement in university committees. Along with the other responsibilities of the job, I'd like to work on the college website to help ensure accuracy of information and ease of use. For many of our students, this is a first point of information regarding the college.
Q: What are some of your goals for this academic year?
A: My primary goal is to work with the departments in the college to assist with meeting their mission and goals. Related to that is assisting in providing a quality education that makes a difference in the personal and professional lives of students and through them, their families and community. The most important parts of the job, I think, are being accessible/available; paying attention to details and follow through; being proactive — solving issues before they become major problems; and being collegial, helpful and positive."
Q: What are your hobbies?
A: Snow skiing, hiking in the Sierras and traveling.
Q: Do you have a spouse, kids or pets?
A: I have a daughter, Kelly, completing her elementary education credential at Cal State Bakersfield and a son, J.J., completing his bachelor's degree in finance here at Cal State Fullerton. He will graduate in January. My husband, Steve, is a retired high school teacher. And, we have a 5-year-old black lab named Jake, just like the one in the book and movie, "Marley and Me." Jake had been abused before we rescued him.