Summer of Surprises
Communications Student Works During Wildfires, Meets President, Governor
September 2, 2008
By Pamela McLaren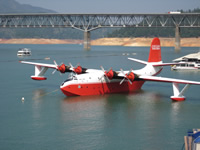 The Martin Mars, the world's largest firefighting water bomber. The plane, capable of dropping 7,200 gallons of water in a single drop, was used for the first time during the 2008 fire season.
Jesse Gutierrez had no way of knowing that his internship at the Shasta-Trinity National Forest would have him helping out during a busy summer when the forest was hit with more than 100 wildfires and visits by state and national officials. But, that's precisely what happened.
The senior communications major spent the summer putting what he's learned in the classroom into practical use — from helping plan a congressional visit and setting up a press conference for Forest Service Chief Abigail Kimbell when she accepted the Forest Service's top position with the state's largest national forest. He welcomed more than 500 Boy Scouts of America, escorted U.S. Rep. Wally Herger (R-Chico) during his visit to Shasta-Trinity and shook hands with President George W. Bush and Gov. Arnold Schwarzenegger.
Gutierrez, 24, had arranged for an unpaid internship in Orange County when he received a call from Michael Odle, Shasta-Trinity National Forest public affairs officer. Following an interview, Gutierrez signed on with the national forest internship program, which paid Gutierrez for his time and arranged for housing: he stayed in the barracks with smoke jumpers and the Redding Hotshots, elite fire teams.
"As the largest national forest in California, we tend to gain the spotlight, with media and distinguished visitors," said Odle. "Jesse was a good mix for our public affairs team and was an asset to our communication efforts."
"This was a fantastic experience, a unique program," said Gutierrez, who explained that he created press releases, public service announcements and talking points and was involved in planning press conferences during the internship. He was required to serve 150 hous but ended up working more than 400. "It was the perfect landscape on which to build valuable public relations experience."
Shortly after Gutierrez arrived, he was in the thick of things with a three-day search and rescue of a missing couple from 14,162-foot Mount Shasta. Then, on June 21, a lightning storm ignited about 150 fires in the national forest.
"Gutierrez assisted in writing and communicating critical fire information through press releases and fire information recordings until public information teams arrived to open an information center," said Odle.
"I expected fires, but not the number that we had this year," he said. "It was unprecedented. The fires created an incredible learning environment. Communicating in crisis situations was a profound part of my experience at the Shasta-Trinity National Forest. Even the most poignant classroom lecture fails to introduce the range of human emotion experienced in these moments."
Amidst the destruction there also was human tragedy, Gutierrez noted. "I assisted in orchestrating a private memorial service for National Park employee Andrew Palmer.
"Palmer was the first firefighter killed in the Shasta-Trinity National Forest — after he was struck by a falling tree. Days later, Chief of East Pierce County Fire and Rescue Dan Packer was overrun by a wildfire following an unexpected shift in the wind.
"Lastly, on Aug. 5, a Sikorsky S-61N helicopter crashed, killing nine people," said Gutierrez. "Only four people survived.
"In all these circumstances, we, the public affairs office, responded promptly and appropriately."
The wildfires and their destruction attracted attention from Rep. Herger, Sen. Dianne Feinstein (D-Calif.), Gov. Schwarzenegger and President Bush. Herger held a press conference July 2 at the forest headquarters, then returned with the other dignitaries on July 17. Gutierrez assisted in advance team preparations, as well as preparing a pressroom for national media following the president, said Odle.
In the lull between the fires and the tour of the aftermath, Gutierrez was involved in the July 12 arrival of more than 500 members of the Boy Scout's Order of the Arrow, who gave 12,000 hours of volunteer service at the forest. The public service project, ArrowCorps5, was the organization's largest public service project since World War II.
"It will be difficult for me to best shaking hands with four dignitaries in a single day," said Gutierrez, who added that he was impressed with the amount of hands-on work he was given and the input he was allowed to have. When not responding to wildfires, other crises and arranging for visits by dignitaries, Gutierrez was involved with another major project, promoting the Shasta-Trinity podcasts.
"Internships ensure Cal State Fullerton communication graduates are both confident and capable," said Gutierrez. "The high-profile, fast pace internship with the U.S. Forest Service has prepared me for a solid career in public affairs."