All in One Place
Cal State Fullerton Engineer Gathers, Evaluates Options to Control Greenhouse Gases
December 16, 2008
By Russ L. Hudson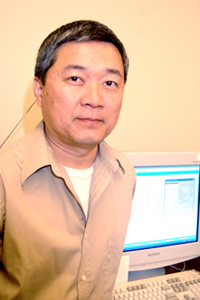 Jeff Kuo
A California State University, Fullerton professor has just completed a first in the effort to reduce non-CO2 greenhouse gases: He has posted a website — http://www.arb.ca.gov/cc/non-co2-clearinghouse/non-co2-clearinghouse.htm — listing and evaluating mounds of literature on the subject in one easily accessible, easily searched location, with each method of greenhouse gas reduction compared to others.
Until now, no centralized location for the many thousands of pieces of literature existed, according to the California Air Resources Board, which funded the work with a $50,000 grant.
The purpose, said Jeff Kuo, professor of civil and environmental engineering, is enabling faster, more effective research by industry, consumers and scientists. Key components include comparisons of costs, how long the result will last, technology availability and ease of utilizing proposed solutions. Information is grouped by type of greenhouse gas, type of reduction, sources and technology needed.
Among the unusual suggestions collected, Kuo said, was genetically engineered cattle to produce more protein per pound of feed. That reduces the amount of feed grown, the fertilizers used to grow it and the fossil fuels burned to transport it. Better utilization of feed by the stock also means less excrement, therefore less methane as it biodegrades, a potent greenhouse gas.
Besides methane, non-CO2 greenhouse gases include hydroflourocarbons, chlorofluorocarbons, nitrous oxide and black carbon, some of which can trap more heat in the atmosphere than CO2 per unit mass.
Kuo, who joined the campus 13 years ago after working in the environmental engineering industry for more than a decade, has been involved in a number of successful environmental research projects and published more than 90 papers and articles. He received his doctorate in environmental engineering, a master's in petroleum engineering and a master's in environmental engineering from USC. He also received a master's degree in chemical engineering from the University of Wyoming.