'The Jazz Titans' Perform in South Korea
Student Musicians Take the Stage at International Citizenís Festival
September 30, 2008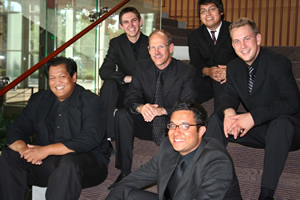 Encircling music professor Chuck Tumlinson are members of "The Jazz Titans." Clockwise from top right they are: Andres Avendano, Sean Macaulay, Dhiren Panikker, Vince Hizon and Nathan Atwater.
South Korea was introduced to "The Jazz Titans" this past weekend, as the award-winning jazz combo from Cal State Fullerton performed in the International Citizen's Festival in Yongin.
Center stage at the festival for two performances Saturday were bass player Nathan Atwater, guitarist Andres Avendano, tenor saxophone player Vince Hizon, drummer Sean Macaulay and pianist Dhiren Panikker, who graduated in May.
In addition to accompanying the students to the festival, music professor Chuck Tumlinson, who plays the jazz trumpet, also performed with the group.
Their invitation to participate in the festival came as a result of the city of Fullerton's involvement with Yongin as a "sister city," along with support from the Fullerton Rotary Club and the Fullerton-based Friends of Jazz.
Besides Korea and the United States, other nations represented at the festival, which is similar to "Night in Fullerton," included Canada, China, Japan and Malaysia. Art, music and dance are the main events of the annual festival held the last weekend in September.
The Jazz Titans were selected as the top combo at the Reno Jazz Festival in 2006 and 2004. A former member of the group, Tom Gill, was the recipient of the 2008 Downbeat Magazine Student Music Award as outstanding arranger. Members of the group have been featured in such area venues as the Catalina Jazz Club, the Jazz Bakery, and Steamers Jazz Club and Cafe.