In Memoriam
Campus Police Officer Dies of Cancer
September 9, 2008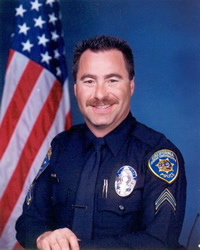 Corporal Jack Dunlap
University Police Corporal Jack Dunlap, who had served the campus community for 10 years, died Sept. 3 after a long battle with cancer. He was 45.
His funeral service will be held Thursday, Sept. 11, at 10 a.m. at Our Lady of Guadalupe Shrine in Riverside.
Dunlap joined the campus community as a police officer in July 1998 and was promoted to corporal in 2001. During his tenure, he served on the department's Critical Response Unit and was recognized for his service to the campus. In 2007, he was honored by the Orange County Auto Theft Advisory Committee as "Recovery Officer of the Year."
He is survived by his wife, Christina; his father, Jack, and stepmother, Linda; sister, Kathi Steingraber; and brother, James.
In lieu of flowers, contributions can be made to: California State Fullerton Philanthropic Foundation, University Police Account # 96200, checks should be marked "Tribute Gift for Jack C. Dunlap" and mailed to: CSUF Police Department, 800 N. State College Blvd., Fullerton, CA 92834, Attn: Debbie Ellis; or donations can be made to CityofHope.org.