On the Upswing
Titans to Bring Back Men's and Women's Golf for 2009-10
November 3, 2008
From Sports Information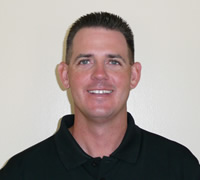 Jason Drotter
Intercollegiate men's and women's golf will be reinstated at Cal State Fullerton for the 2009-10 season after an absence of more than two decades.
"These programs are being brought back primarily due to private donations," said Brian Quinn, director of athletics. "Our thanks go to the extreme generosity of donors who have committed to raising $2 million for these programs, which will immediately compete in the Big West Conference.
"Fullerton has been the only one of the nine universities without a men's golf team and one of only three (UC Santa Barbara and Pacific) without a women's team."
Jason Drotter will be interim director of golf operations and coach both teams. He currently is manager of Super Sports Golf and Recreation Center in Orange. He also was the coach of the boys' and girls' golf teams at Villa Park High School for the past six years. He was a standout golfer at Long Beach State and has been a teaching professional.
"I am honored to have been chosen as the director of golf here at Cal State Fullerton," said Drotter. "During my brief involvement here, I am convinced that the athletics department is second to none. Given this, the strong support of our donors and our geographic location, I feel confident in our future success."
Fullerton will practice and compete at a number of local public and private courses.
Fullerton last had men's golf in 1987-88 and women's golf in 1985-86. Both programs were successful at the college division level in the 1960s and early 1970s. The men placed seventh in the NCAA championships in 1966 and Paul Wise was the individual champion in 1973. The women placed third in the nation in 1972.
The golf programs will bring the Titans back to 17 intercollegiate sports — 10 for women and 7 for men. Intercollegiate fencing (men and women) was dropped after the 2007-08 season.
Golf teams may compete in nine 3-day tournaments or on 24 dates of competition over the fall and spring semesters. The 2010 Big West Conference Golf Championships will be contested Apr. 20-21 at the San Luis Obispo Country Club.
The NCAA maximum for golf scholarships is 4.5 for men and 6.0 for women. Five golfers typically compete in a tournament with the four best scores counted.