Hygiene Help
Students Collecting Toiletries for Disadvantaged Children
November 18, 2008
By Mimi Ko Cruz
Patricia Buendia had never been to a shelter for severely abused, neglected and emotionally troubled children until she was assigned to do so as part of a health education class.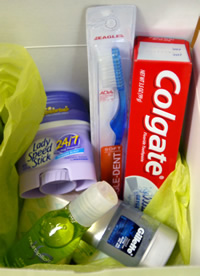 Donations being sought for the hygiene drive include deodorant, hair gel, toothbrushes and toothpaste. Photo by Kelly Lacefield
"It's hard to believe that there are children, locally, who are not as fortunate as we are at Cal State Fullerton," the 21-year-old health science major said after visiting Canyon Acres Children and Family Services in Orange County, a welfare agency that provides a safe place and care and mental health services for more than 200 children.
With emotional trauma to deal with, personal hygiene may not be a priority for the suffering children, Buendia said. "These kids hardly have a home and do not have a foundation of people taking care of them …. Health science is a major that targets health disparities and, in this case, we will try to eliminate this one disparity among these children through a hygiene drive."
Through Dec. 12, Buendia and other members of Eta Sigma Gamma, the health science student honor society, will be collecting toiletries such as toothbrushes, tooth paste, deodorant, soap, shampoo and hairbrushes to give to Canyon Acres' children.
Donations can be put in a special box in the lobby of the Health Science Department office, Room 120 of the Kinesiology building.
Buendia said members of Eta Sigma Gamma will package the donated items and deliver them next month.
"The bottom line is personal health is important," Buendia said.
"It is very meaningful for Eta Sigma Gamma to spearhead this drive for a couple of reasons," said Michele Moutappa, assistant professor of health science, the honor society's adviser. "First, giving these children some of their basic necessities during the holiday season is our way of saying that we care, and we are thinking of them. Secondly, the hygiene drive is exactly what we as the Health Science Department strive to promote: health and disease prevention. It is exciting to see how Eta Sigma Gamma really has taken on this commitment to service in the community."
For more information about the hygiene drive, send an e-mail to pbuendia@csu.fullerton.edu.
Other Drives
As the holiday season approaches, Cal State Fullerton's students and faculty and staff members are organizing drives to raise money for various causes. The efforts include:
Thanksgiving Drive — Cal State Fullerton's Lambda Sigma Gamma Sorority is collecting canned food and cash in an effort to assemble Thanksgiving Day meal baskets. "Our goal is to give six baskets to low-income families in Orange County," said Monica Maldonado, vice preisdent of Lambda Sigma Gamma. "The baskets will be filled with a whole turkey, stuffing, mashed potatoes, vegetables and other items that you would see on a Thanksgiving dinner table." Donations will be collected Nov. 19 on the walkway between the Pollak Library and Titan Shops.
Food Drive — The Volunteer and Service Center on campus is collecting canned and nonperishable foods through Dec. 3. Donations can be brought to the center, located in Room 2 of the Titan Student Union. The collected food will be given to Irvine-based Second Harvest Food Bank, an organization that distributes food to the hungry throughout Orange County. For more information, call 714-278-7623.
Fundraising Drive — The Volunteer and Service Center also is collecting money through Dec. 3 to help the Women's Transitional Living Center continue to offer its programs. The Fullerton-based nonprofit organization provides shelter and services to victims of domestic violence. Donations should be brought to Room 2 of the Titan Student Union. For more information, call 714-278-7623.
Titan Toy Drive — New toys are being sought for kids ages 7 to 14. The public is welcome to take a name from the Titan toy train display in the lobby of the Titan Student Union and purchase a toy for that child. Donors are asked to bring unwrapped toys with the name tags attached to the toy train display by Dec. 12. The toys will go to participants of Camp Titan, Cal State Fullerton's philanthropic program that gives disadvantaged youngsters the opportunity to experience the great outdoors. About 120 children took part in Camp Titan this year and they and their families will be invited to a Dec. 13 holiday party on campus, when the toys will be distributed. For more information, call 714-278-2468.